A woman plants almost 372,000 trees throughout the summer, including 4,545 trees daily
In a single day during last season, Leslie Dart accomplished a remarkable task – planting an impressive 4,545 trees in Saskatchewan. Venturing across a scarred landscape, she meticulously dug a hole, placed a seedling, and moved swiftly to the next spot. A TikTok video showcasing her effort has captivated over 8.7 million viewers.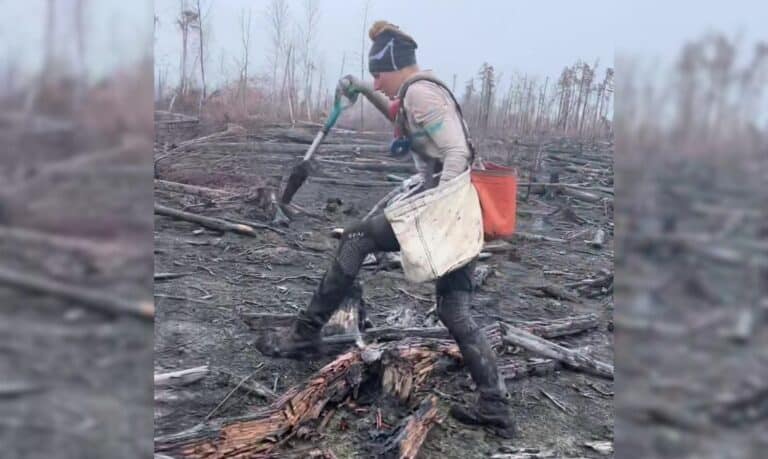 Dart's commitment over her college summer breaks resulted in a whopping 372,290 trees planted. Her efforts are admirable, and she's not alone in this endeavour. In British Columbia, logging firms must engage in summer reforestation due to stringent policies. These initiatives also help mitigate the damages caused by wildfires.
Tree planting is an attractive summer job for many college students, often paying between 13 to 27 cents per sapling. Dart, a recent college graduate venturing into aerospace manufacturing, found her tree-planting summers exceptionally gratifying. She once set a personal best, planting 5,415 trees on a sweltering 93-degree (Fahrenheit) day.
Discussing the unpredictability of the job, Dart mentioned, "The weather can swiftly shift from sunshine to heavy rain, hail, or even snow. Enduring multiple consecutive days of intense heat, around 37 to 40 degrees Celsius, was particularly challenging."
As per the British Columbia Ministry of Forests, a commendable 1.6 billion trees have taken root in the province since 2017, with an annual count of over 200 million saplings. They regard this activity as an essential forestry component for maintaining ecological health.
Many students transition to full-time roles after their tree-planting vacations, but it becomes a lifetime passion for some, like Kenny Chaplin. Starting at 18, Kenny has been planting trees for 35 years. 2001, he set a Guinness World Record by planting an incredible 15,170 trees in one day. Despite the record being surpassed, Kenny remains a trailblazer in the field. Alongside his roles as an assistant director and substitute teacher, he cherishes moments when he visits his record-setting forest in Saskatchewan. "Walking amidst the trees I planted, reminiscing about that day is empowering," he reflected.
For many like Dart, the physical and mental demands of the job are unmatched. Yet, the allure of tree planting remains. Dart described it as the unique work environment she's ever been a part of, emphasizing the growth and resilience it instils in an individual.
Source: mymodernmet