A 13-year-old busker in the streets of Ireland beautifully covers the song "Hallelujah" by Leonard Cohen
The iconic song "Hallelujah" by Leonard Cohen, initially recorded in 1984, has transcended generations and backgrounds, becoming a timeless anthem. Cohen once noted that "many different hallelujahs exist," emphasizing how the song touches upon the search for faith in life. This sentiment is beautifully exemplified through the various covers of the song, ranging from mournful interpretations to hopeful renditions. The rendition featured here, delivered by the talented 13-year-old Fionn Wheelan, is undoubtedly an inspired take on the classic.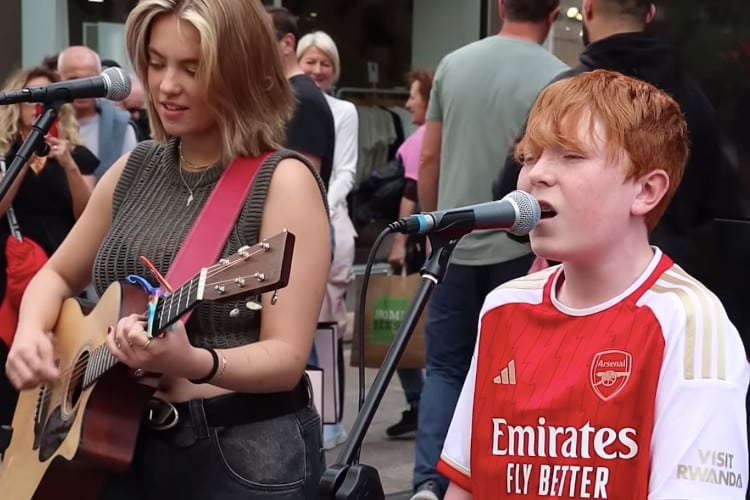 For this particular cover performance, Wheelan teamed up with 18-year-old busker Allie Sherlock on the vibrant streets of Ireland. Sherlock, who has shared stages with acts like One Republic, occasionally returns to her roots by performing for passersby. With her seasoned musical experience, Sherlock recognized Wheelan's exceptional singing talent and even likened him to "the next Ed Sheeran." This comparison extends beyond their shared red hair, as Wheelan sings with a soulfulness that rivals the renowned British singer.
Despite its current fame, "Hallelujah" had a humble beginning and wasn't an immediate hit. It wasn't until 1991 that John Cale recorded a new version, sparking the creation of another iconic cover by Jeff Buckley in 1994. In 2001, the song achieved global recognition when featured in the soundtrack of the animated film "Shrek." Leonard Cohen once commented on the music, explaining, "This world is full of conflicts and incompatible items. However, there are times when we can come to terms with and accept the entire chaos, and that is what I mean when I say "Hallelujah.
As for Fionn Wheelan, only time will reveal whether he will reach the same legendary status as the artists who inspired him. In the meantime, you can explore more of his remarkable covers by following him on Instagram. And for additional musical delights, remember to visit Allie Sherlock's YouTube channel. In the streets of Ireland, these young talents brought a heartfelt and soulful rendition of Leonard Cohen's "Hallelujah" to life, leaving an indelible mark on their listeners.
Source: mymodernmet