A viral mental health hymn called "fish song" has taken over TikTok and is quite catchy
Corinne Savage, known as @corook, alongside partner Olivia Barton, has struck a chord with over 13 million viewers through their uplifting acoustic track, "If I were a fish." The song's simple yet poignant lyrics resonate deeply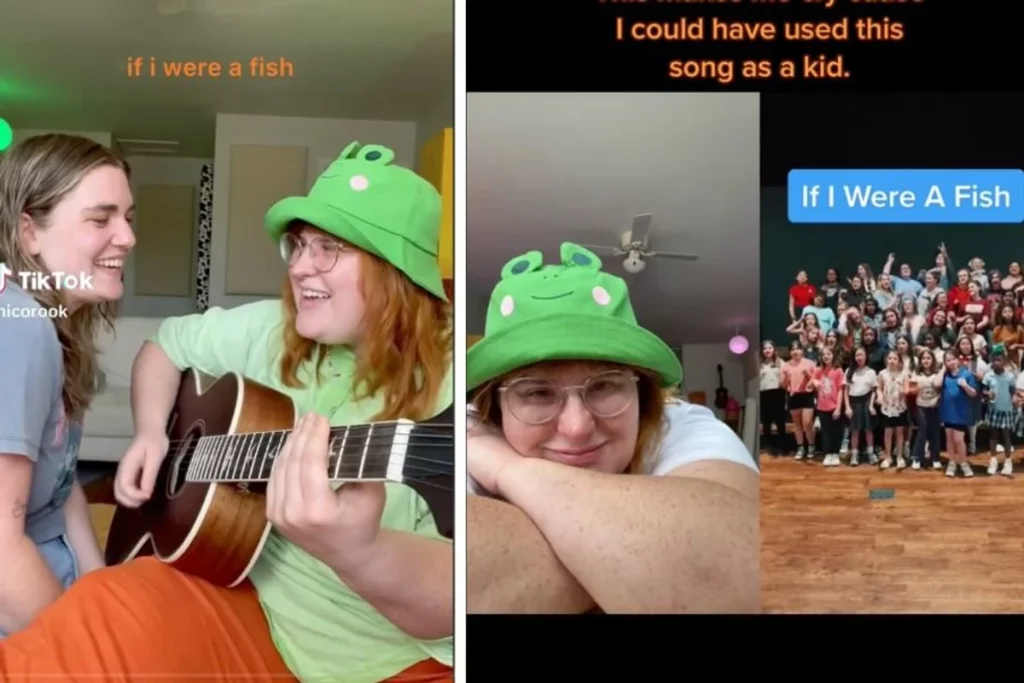 "If I were a fish, and you caught me, you'd say 'Look at that fish,' shimmering in the sun, such a rare one, can't believe that you caught one…"
The chorus exudes radical self-acceptance and joy, defying the negativity that often permeates the online world.
This infectious blend of catchiness, power, wit, and absurdity is a masterpiece. Astonishingly, it was born from a challenging day and a mere ten minutes of creative inspiration.
@hicorook

I was having a very emotional day, feeling insecure and out of place. So I cried to Olivia and after feeling through it, we wrote this song in 10 minutes to remember the joy in being different 🐸 happy Tuesday

♬ original sound – corook
Savage, identifying as nonbinary, revealed to The Boston Globe that the song stemmed from a challenging period of receiving hurtful comments on a prior post. These comments didn't directly affect them but illuminated a more profound sense of feeling displaced and isolated.
"It's not that the hate comments affected me, it was more that the hate comments were shining a light on something I was really thinking about in my life, which is I feel like I don't have a place," Savage explained.
To lift Savage's spirits, Barton proposed a lighthearted activity, leading to the spontaneous creation of "If I were a Fish" to celebrate individuality and a moment of healing.
Remarkably, it has evolved into a cherished anthem for self-love, resonating with those who have ever felt like a fish out of water. Children sing it in school choirs, and gatherings for heartwarming singalongs have drawn crowds of over a hundred. Swiftly transcending viral fame, the song has become a full-fledged movement.
Its widespread impact underscores that Savage's sentiments were shared by many who need these musical affirmations.
"I think there's a mass amount of people on the Internet screaming into the void, and none of us are sure if we're hearing each other," remarked Savage. "I think that for some reason, this song, everybody feels heard by."
Embracing one's uniqueness and loving oneself unconditionally requires courage. Nurturing joy within, especially in adversity, is no small feat. Thankfully, art serves as a beacon of light. Moreover, the art that heals us has the power to heal others. The remarkable ability of art to instantly unite strangers in a shared experience is perhaps one of humanity's greatest gifts. Gratitude is owed to creators like Corook for providing such beautiful exemplars.
As an additional gift, Savage and Barton have expanded "If I were a Fish" into a full two-minute song, available for listening below:
Source: upworthy