Between exams, an eighth-grader challenged a teacher to a dance-off, and she accepted
Reiterating a sentiment we've expressed before and will continue to emphasize: Teachers deserve an abundance of appreciation, applause, salary increases, awards, and gratitude for their tireless efforts. Even if they solely focused on academics, their value would far exceed what they receive. However, many educators go the extra mile, shaping not only the minds but also the character of their students, from equations to building qualities of integrity.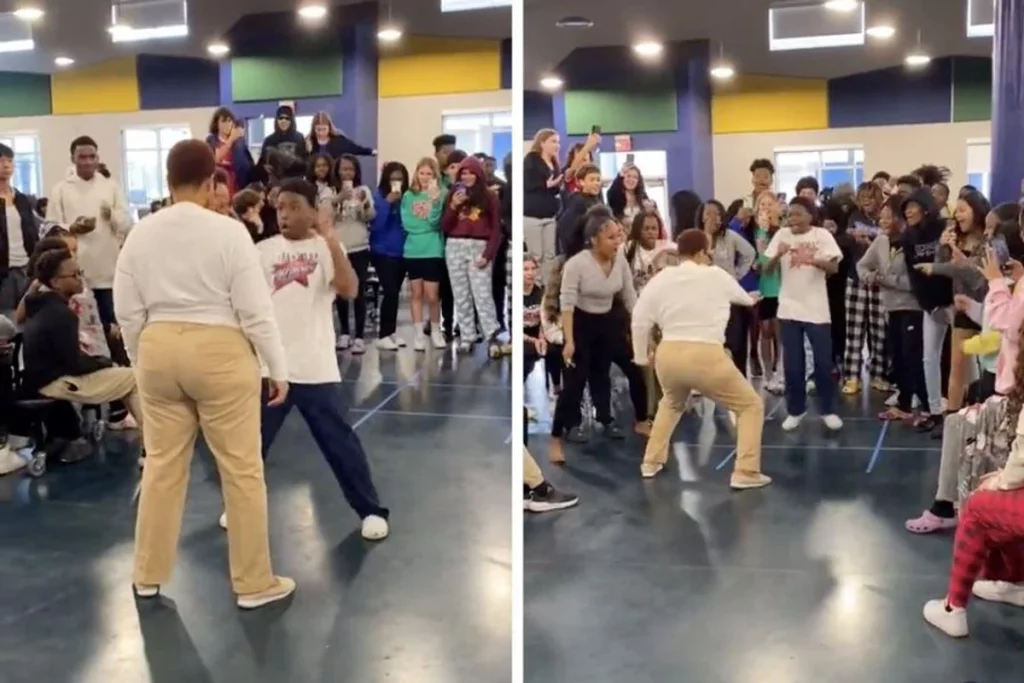 A crucial method employed by devoted educators is establishing relationships and cultivating rapport with their students. One foolproof approach to achieving this is through the art of dance.
An assistant principal at Sumner High School & Academy in Riverview, Florida, uploaded a popular video on social media. He captures a group of students gathering around one of their peers as he playfully challenges a teacher to a dance-off.
"Our 8th grade Stingrays taking a well-deserved dance break from exams," noted Assistant Principal Natalie McClain. "Naturally, our teachers are concluding 2022 with a victory."
Ms. Yolanda Turner, the teacher in question, graciously accepted the challenge, prompting an exuberant response from the students.
The student seemed convinced he had the upper hand, didn't he? There was a moment when it appeared he couldn't believe what he had just attempted after tapping her shoulders. Yet, to her credit, Ms Turner handled the situation gracefully and promptly showcased her dance prowess.
"The music was playing, the kids were excited," Turner shared with Fox 13. "So I thought, let's have a dance challenge. I decided to join in. I wanted to tap into the dance."
"I always stress to kids the importance of being true to themselves and to never shy away from expressing their identity, regardless of who's observing," she added.
This dance-off video is an outstanding illustration of how schools can be places of joyous interaction and foster academic success. Earning the respect of students doesn't necessitate a stern authoritarian approach, and students generally respond better to teachers who genuinely care about them. Meeting them on their level is one of the most effective ways to connect with them, and creating experiences that allow for lightheartedness and fun is a crucial strategy for keeping them engaged.
Moreover, who doesn't benefit from some stress relief between exams? This video beautifully illustrates balancing academic rigour and role-modelling ways to alleviate stress. Bravo, Ms. Turner.