Interesting Abandoned Homes to Visit
Why not stop by one of these peaceful, abandoned homes if you're seeking a break from the daily grind?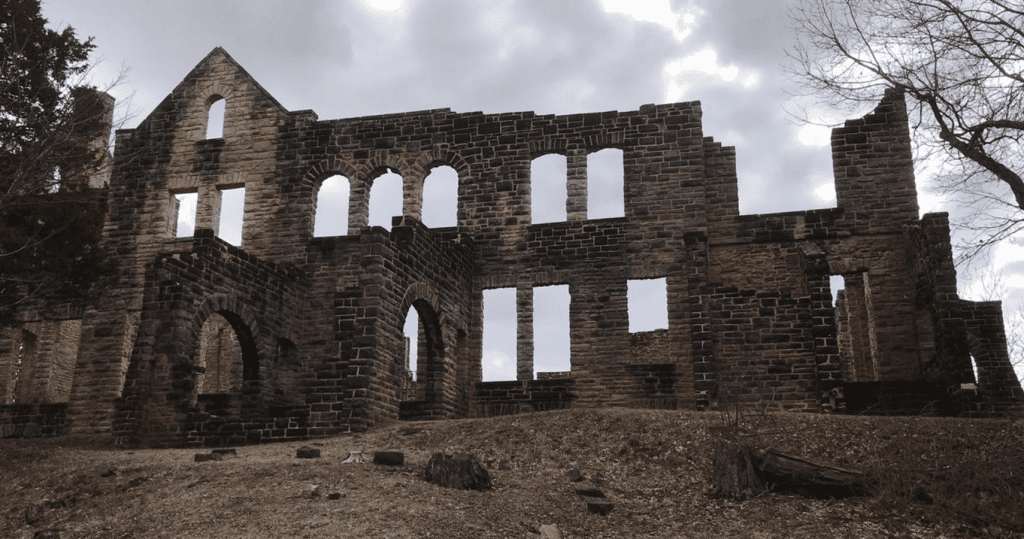 There are abandoned locations all around the world that spook people but also intrigue them, from theme parks and hospitals to schools and prisons. Check out these abandoned homes if you enjoy seeing the ghosts of the past that serve as reminders of what once existed and appear to be settings for scary movies. They're all in the United States, of course. They were all once quite glitzy and luxurious. And now because they are all collapsing, abandoned, and open to appearing on lists like this one that displays beautiful yet spooky relics, they are all at risk of doing so.
New York's Craig House in Beacon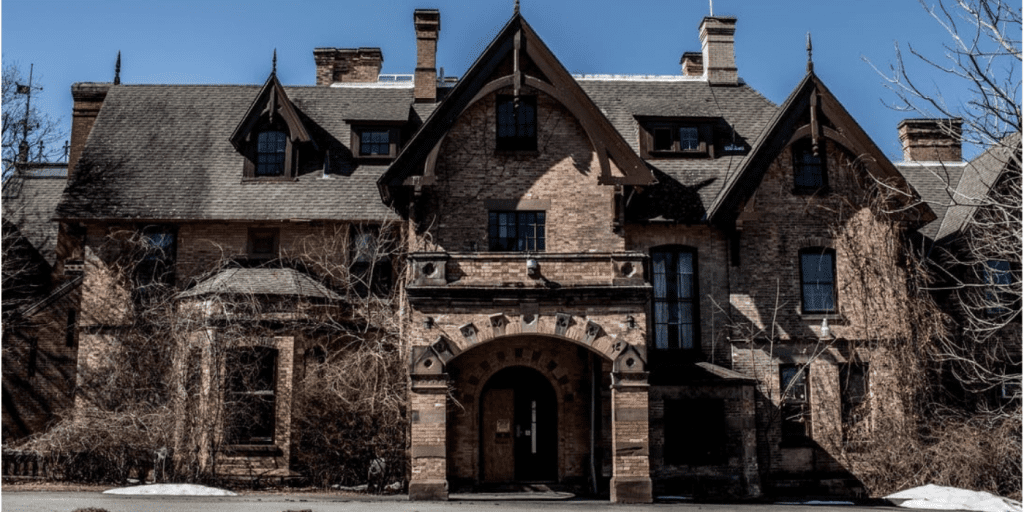 Joseph Howland, a Civil War officer, owned this home in 1859. With a gym, swimming pool, and golf course situated on 60 acres, the property must have looked magnificent. Later, it developed into the first privately run psychiatric facility in the country, treating celebrities including Zelda Fitzgerald, Truman Capote, and Marilyn Monroe (as stated by abandonedbutnotforgotten.net). After it shut down in 1999, Robert Wilson bought it a few years later, however, he later committed suicide in 2013. According to Atlas Obscura, a new person is constructing this mansion, and obstacles, warning signs, and police officers are posted nearby to prevent anyone from entering.
The castle at Bannerman in Cornwall, New York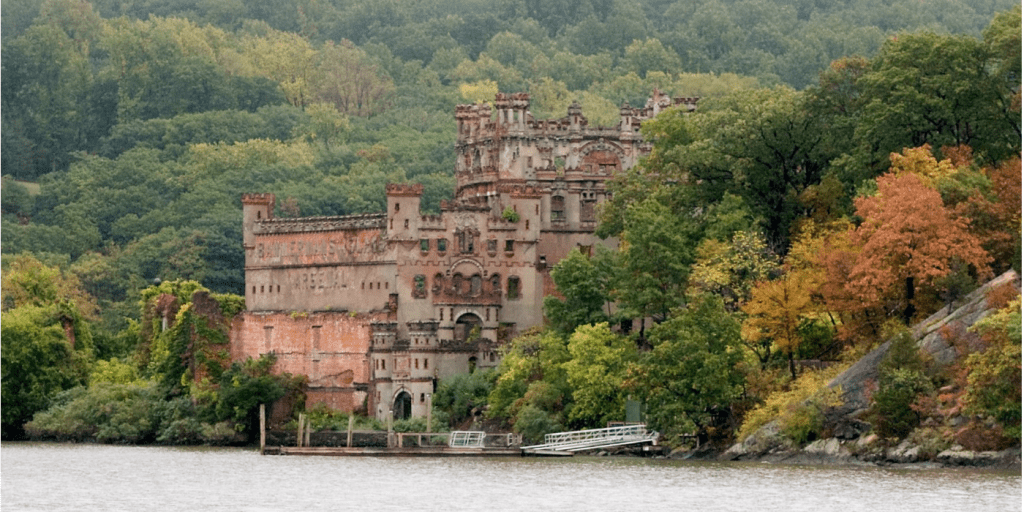 Pollepel Island, where Bannerman's Castle is located, is also part of the Hudson River. This property served as a storage area, a home, and a business that sold obsolete military equipment in the early 1900s. There was an explosion there in 1920. Pollepel, a ferryboat, was sunk in 1950. This location was bought by New York State for tours in 1967. There was a fire in 1969. A woman and her fiancé went on a kayak expedition to the island in 2015, following the castle's acquisition by the New York State Office of Parks, Recreation, and Historic Preservation. He did not return, and she was accused of murder after that.
Within Dutchess County, New York, is Wyndclyffe Castle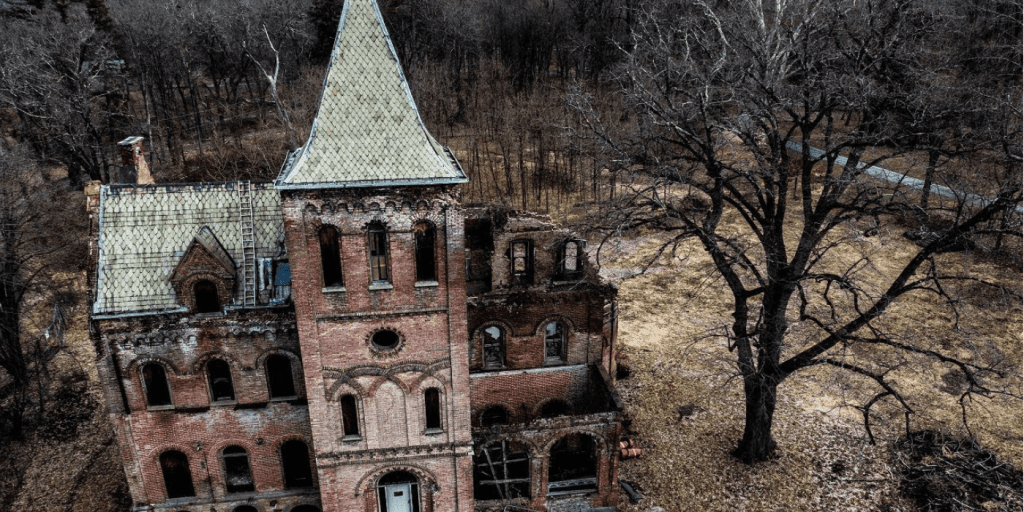 Since Wyndclyffe Castle, which belonged to Edith Wharton's aunt in 1853 and, according to Town & Country Magazine, served as the model for the expression "keeping up with the Joneses," the Hudson River region is replete of vacant homes. It had been abandoned in the 1950s and was bought in 2003 in an effort to try to fix it. It was sold at auction in 2016, and the house's demolition was ordered. Although it formerly had architectural features like terra-cotta chimneys and a Tiffany skylight, what is left is decaying.
New York's Elda Castle is in Ossining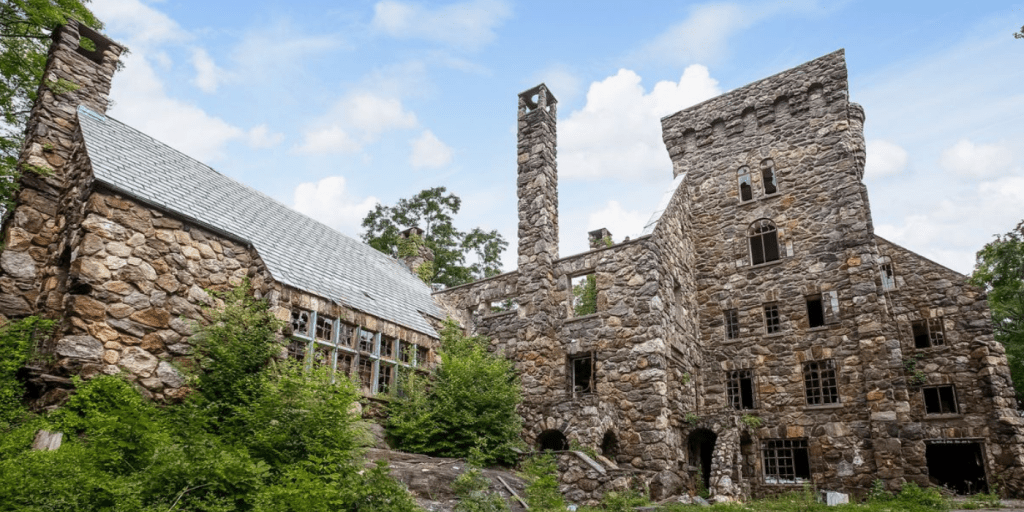 The name Elda Castle was given to the house in 1928 by David Thomas Abercrombie of Abercrombie & Fitch. He resided there with his wife Lucy and their four children, Elizabeth, Lucy, David, and Abbott. This property featured about 20 rooms when it was built, as well as a spiral staircase, courtyards, balconies, a conservatory, and other features.
The castle was bought by a business that was investigating paints in the 1940s. Later, an attempt was made to convert it into a retreat and conference center. Several people have attempted to renovate it throughout the years, but it has generally remained vacant.
In Cape Vincent, New York, is Wyckoff Villa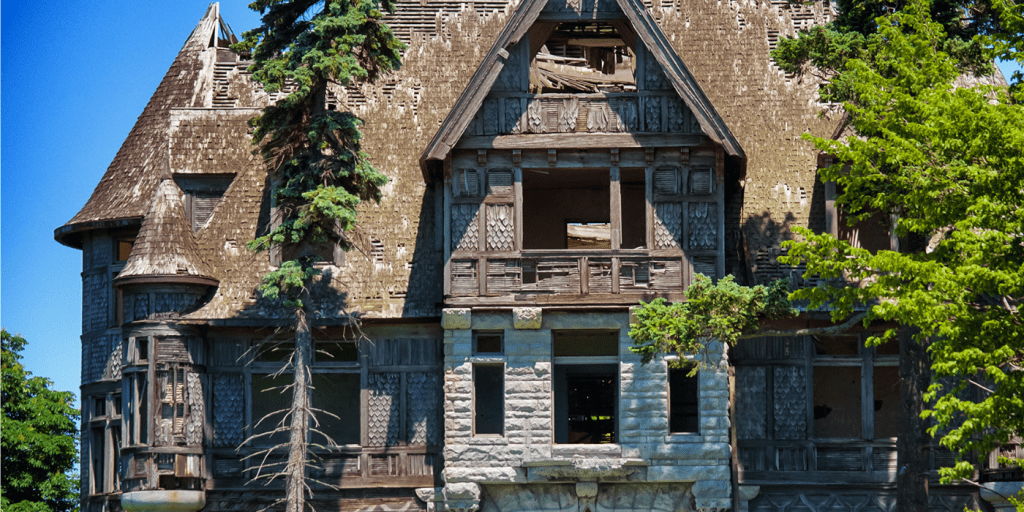 Wyckoff Villa is one more cool place to see in New York (for the brave). It was constructed in the 1890s by William O. Wyckoff and is situated on Carleton Island in New York. But the day after he moved into this location, he died! Then, General Electric purchased this 15,000 square foot house with the intention of using it as a business retreat. That notion was abandoned when World War II broke out, and Wyckoff Villa's windows and doors were taken out, adding to the building's depressing condition. However, this property is for sale, so if you really, really, really enjoy abandoned houses, feel free to buy it.
In Camdenton, Missouri, Ha Ha Tonka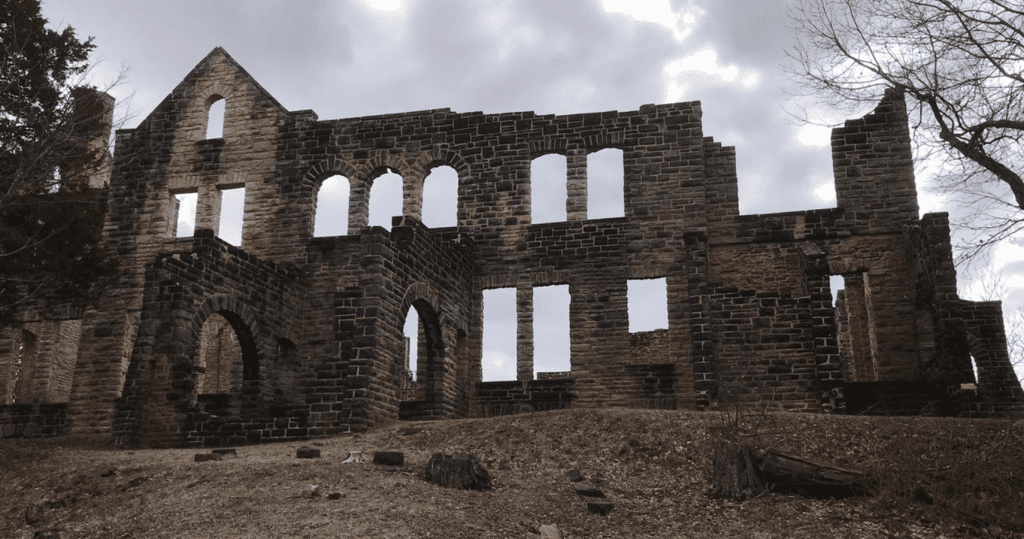 Visitors to Ha Ha Tonka State Park in Missouri can view the abandoned town of Ha Ha Tonka. This European-style castle-style residence was constructed in 1905 by a man name Robert McClure Snyder, Sr. It was finished in the 1920s and used by his family as a summer and weekend residence. It was a hotel in the 1930s, there was a fire there in the 1940s, and the state bought Ha Ha Tonka and its surrounds in the1970s, transforming them into the park they are today. However, access to the actual house has been restricted because it is in ruins and further collapses are possible.
Franklin Castle, an Ohio landmark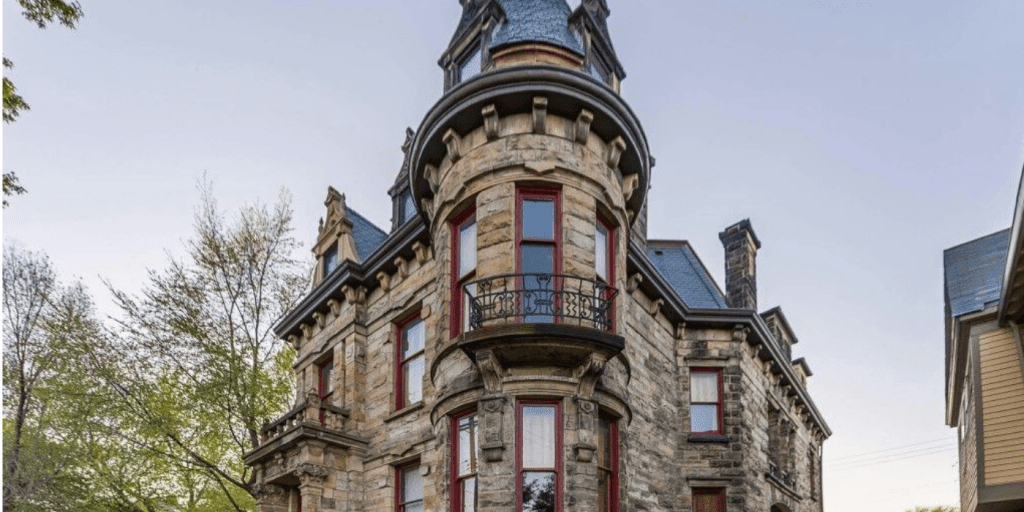 The Franklin Castle is in Cleveland, Ohio. When the Tiedemann family moved into this eerie home in the1800s, they lost four of their children. In an effort to cheer up his wife, Mr. Tiedemann added a ballroom, turrets, and gargoyles to the already opulent home. The Romano family moved in during the 1960s and reportedly saw ghostly apparitions, performed exorcisms, and invited a ghost-hunting team to investigate the location.
A guy intended to convert this location into a church in the 1970s, so he organized overnight stays and ghost tours to earn money for the project. Michael DeVinko, the actor Judy Garland's husband, attempted to reconstruct the castle in the 1980s and spent roughly a million dollars doing so before selling it in1994. Franklin Castle is reportedly going to be divided into individual family residences.
Haught Mansion in Michigan's Brush Park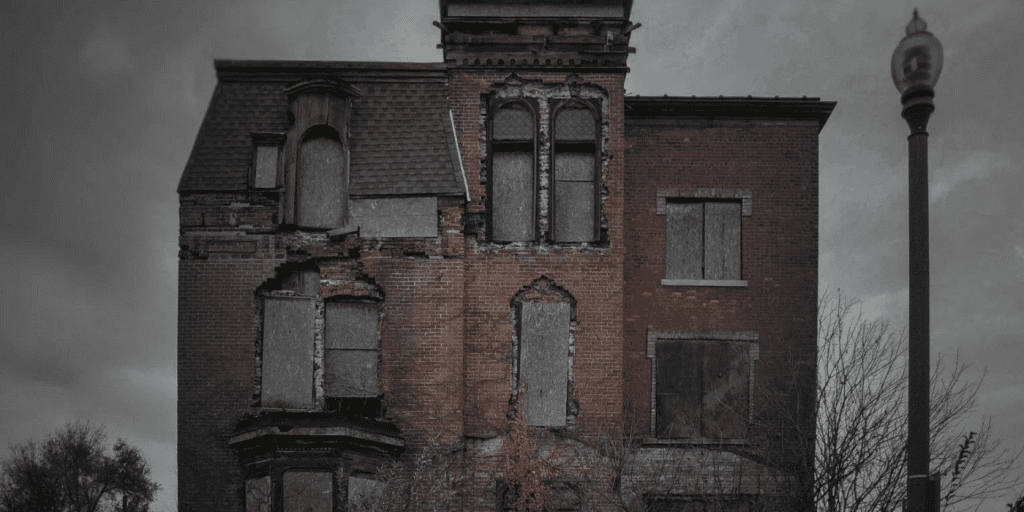 The Haught Mansion, located in Brush Park, Michigan, is next on this list. It, too, has a spooky background because, as The Courier Mail reported, bodies with circles on their torsos and chests were found in this house's cellar. Prior to that, during its heyday, it was actually utilized as a brothel, and in 2016, it made an appearance in the superhero movie Batman v Superman: Dawn of Justice (although, based on how it seems in this picture, it would have been better suited for some slasher thriller!).
In Nova, Ohio, is the Nova House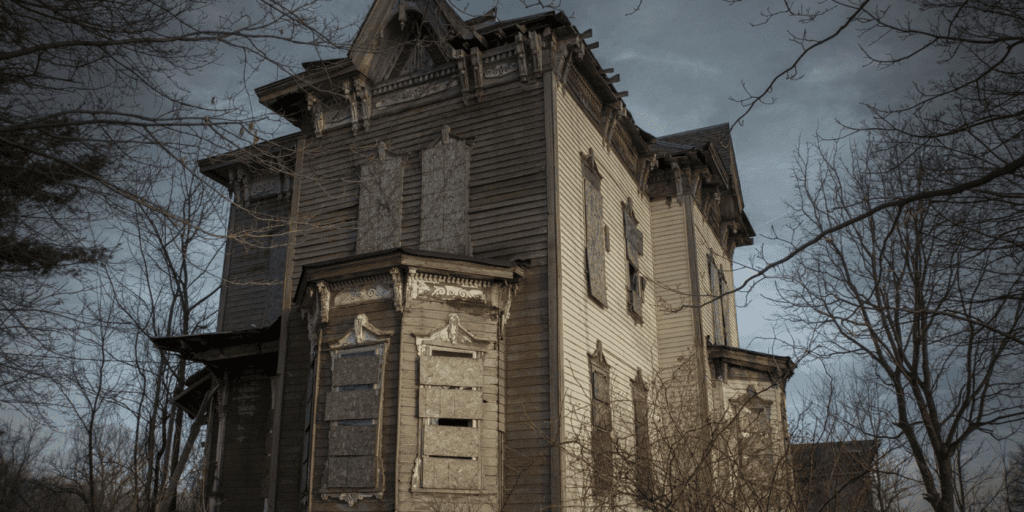 Benjamin Albright accidentally shot his kid in 1958, killing the child. Albright later killed himself, his wife, and another person. Since that time, the house in Nova, Ohio, has been vacant, but according to stories (by outlets like Business Insider), certain belongings of the Albright family may still be found there. This structure, also known as the Nova House, is highlighted in the book Hauntingly Beautiful by photographer Seph Lawless, which includes images, tales, and information about other similar historic houses.
Alaska's King Island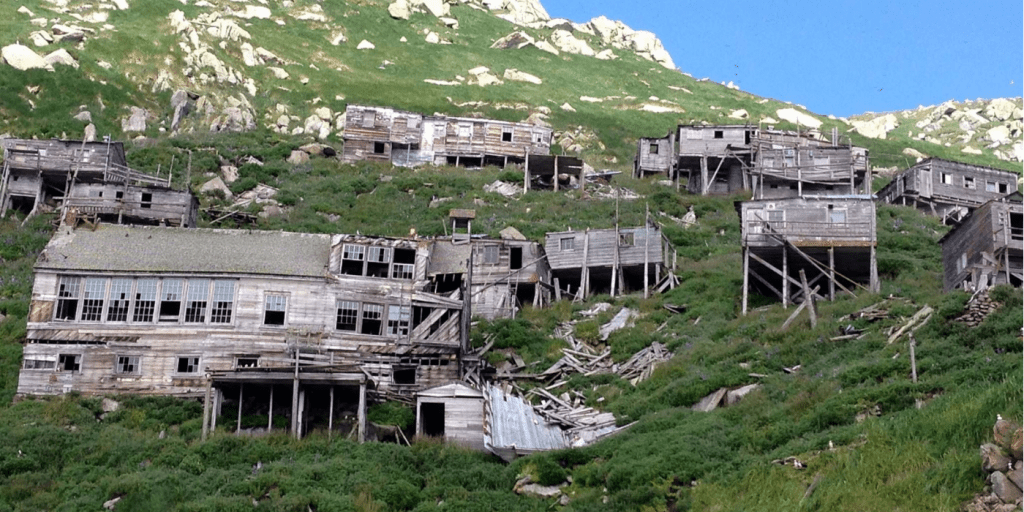 Around 200 Inupiat people lived on King Island in Alaska before the school there closed in the 1900s and the kids were transported to the mainland to finish their education. As gathering food played a significant role in this way of life, the elder generations also relocated to mainland Alaska as a result of the lack of extra hands. Although it appears that some of these people still visit this region in search of foods like walrus and seal, it is largely abandoned. That indicates that it is another eerie spot and a collection of homes that should be included on this list.
RELATED:The Rebirth Of UK's Biggest Stately Home Is Not Too Far Away