A child presents his grandfather with a baseball that he hit a home run in this heartwarming moment
A Heartfelt Moment Captured on Instagram Felix and his grandpa, Bruce Carrier, have captured the hearts of many with their endearing bond. A heartwarming video, shared on Instagram by Felix's mom, Melissa Carrier-Damon, showcases a touching moment between the young boy and his beloved grandpa.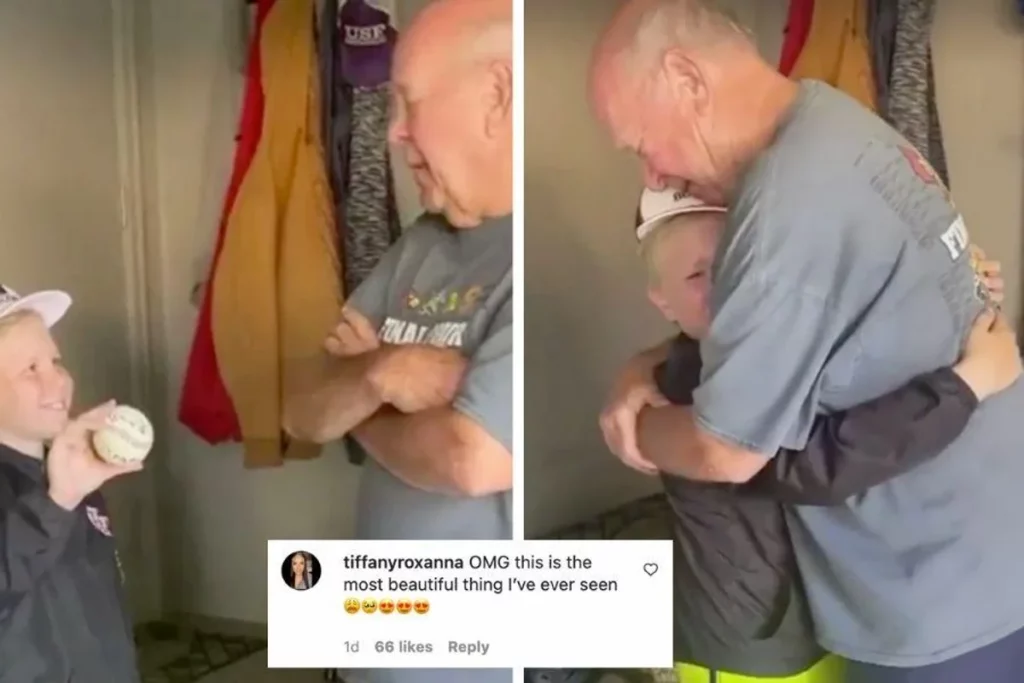 With a beaming smile, Felix proudly reveals to Carrier that he has achieved not one but two home runs during a recent baseball game. Not stopping there, he adds that he also hit a grand slam, a remarkable feat for such a young player.
In a heart-touching gesture, Felix presents his grandpa with the home run baseball he earned during the game. To make it even more special, he signed the ball with the words, "Papa, I love you."
Carrier, visibly moved by the heartfelt gift, asks Felix why he decided to do this. Without hesitation, the affectionate grandson replies, "Because you taught me everything about baseball." The sincerity of the exchange between the two generations resonated with viewers and evoked an outpouring of emotions.
The video quickly went viral, amassing nearly 500,000 views in no time. The online community was deeply touched by the pure love and genuine connection between Felix and his grandpa.
Comments poured in, expressing admiration and sentiment for the heartwarming moment. One viewer tearfully wrote, "I'm in tears. Such a unique bond do they have. It's incredibly lovely of Grandpa to refer to him as Honey." Another remarked, "This is all heart ❤️ ❤️ thank you for sharing this beautiful moment."
The touching video tugged at heartstrings and inspired viewers to appreciate their grandparents. Many expressed how precious and significant the role of grandparents is in their lives.
In an interview with TODAY, Carrier-Damon revealed that the idea of gifting the baseball was entirely Felix's. Since the young boy began playing baseball at the tender age of 4, Carrier, a former college baseball coach, has been a constant pillar of support. He played catch with Felix, took him to batting practice, and never missed any of his games.
"[He's] just a really big part of the family," Carrier-Damon said, emphasizing the importance of the grandpa-grandson relationship.
Even after the video garnered widespread attention, Carrier still feels emotional about the touching moment. He confessed to USA Today that he gets "teary-eyed" every time he revisits the video. "I'm so proud he let me be part of that day," Carrier shared.
The heartwarming exchange between Felix and his grandpa has undoubtedly struck a chord with people worldwide. Its sincere display of love, admiration, and appreciation between generations is a powerful reminder of the meaningful connections that bind families together.
The touching video of Felix gifting his home run baseball to his grandpa and their heartwarming exchange of words has left an indelible mark on viewers' hearts. It serves as a testament to the lasting impact of family bonds and the profound influence grandparents can have on their grandchildren. This heartfelt gesture reminds us of the power of love and the significance of cherishing special moments with our loved ones.
Source: upworthy