Taking his blind friend to the stadium, a soccer fan describes the entire game
The universal thrill that soccer evokes is something everyone should experience, especially in the electrifying atmosphere of a live stadium match. However, this isn't always a given for visually impaired individuals—especially in the absence of a commentator's narration. This was the reality for Mike Kearny, a blind man. Fortunately, he has a dedicated companion in his cousin, Stephen Garcia. A heartwarming video recently showcased Garcia meticulously narrating the game's events to Kearny in the stadium, culminating in a joyous celebration when their team netted a goal.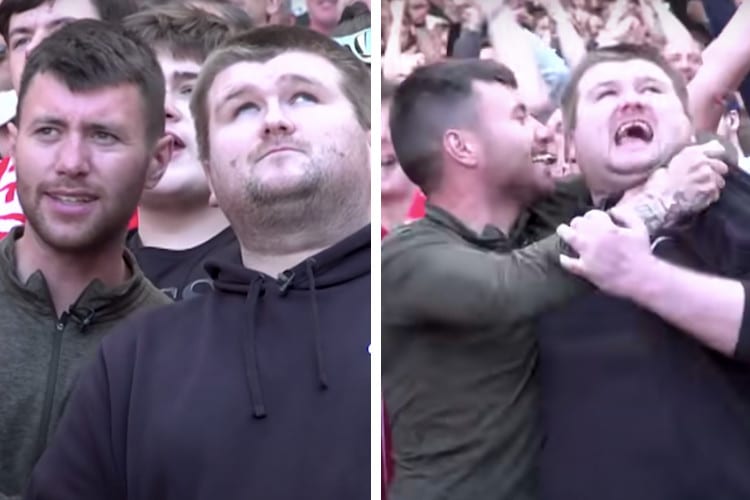 Both Kearney and Garcia are ardent season ticket holders of Liverpool FC. The duo first made headlines in 2018 when Kearney was spotted exuberantly celebrating Mo Salah's triumphant goal against Napoli during a Champions League game.
"It's how we enjoy the game," Garcia remarked in a conversation. "I detail every goal kick, corner, and throw-in to him. And he unmistakably realizes when our team scores, as I embrace him in celebration." Garcia ensures that he informs Kearny about who bagged the goal, describes the sequence of the play, and even shares the collective sighs when the opposing team has the upper hand.
Impressed and touched by their unwavering dedication and spirit, Liverpool FC invited them for the season's final match. The club chronicled their day, capturing not just Garcia's narration to Kearny but also their shared jubilant moments following Liverpool FC's goals.
The narrative takes an even more poignant turn when Mo Salah, the shining star of Liverpool FC, invites Kearney and Garcia to the team's practice facility at Melwood. To mark the occasion, Salah presented them with team jerseys and personally autographed Kearney's with the words, "To Michael, your passion inspires."
The video captures the touching bond between Garcia and Kearney as they share their love for soccer and Liverpool FC. Their dedication and enthusiasm even earned them a memorable invitation from the club's most celebrated player, Mo Salah, and special signed jerseys as tokens of appreciation.
Source: mymodernmet