The World's Most Beautiful Deserted Locations
Although doomsday-like, abandoned locations have a certain allure. There is no one in sight, the clocks have stopped, yet the ruins of what once was are still visible. Places that have been abandoned show us what happens when humans stop maintaining them, and perhaps even what might happen to places we visit and love. These places are eerie, yet there is an enigmatic beauty to neglect. The following locales are some of the most striking we've ever seen, despite being slightly worn over time. Continue reading to see some of the most stunning deserted locations on earth and discover their histories. Looking at them will nearly make you feel voyeuristic since you'll think you're seeing a very private part of someone else's life.
#1 Alaska's Kennecott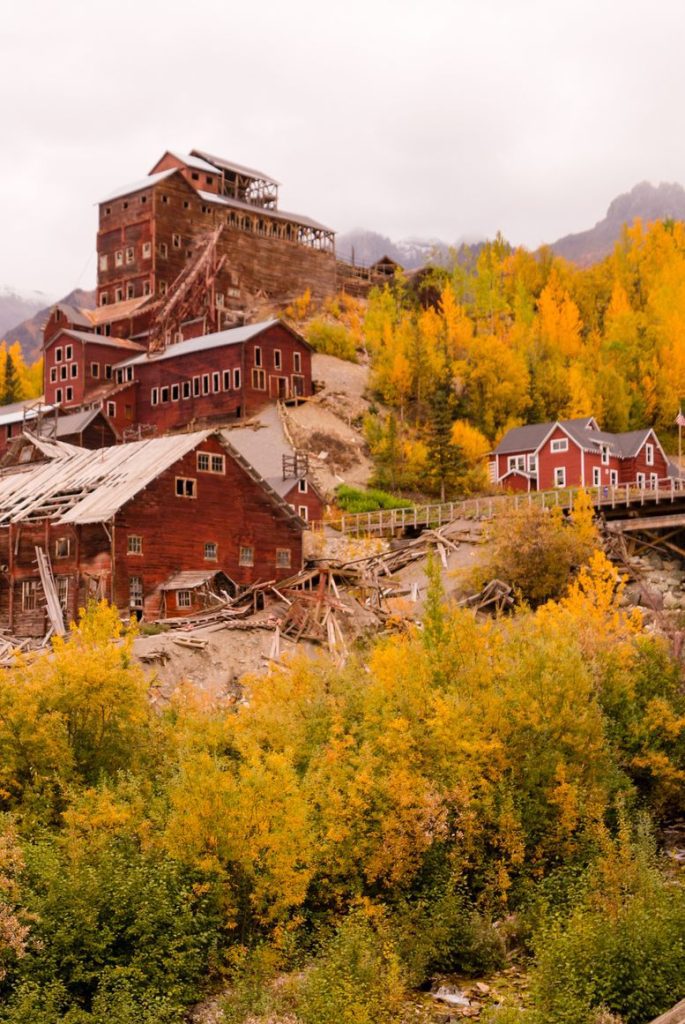 The Kennicott Mines and neighboring hamlet in Alaska's wilderness are (nearly) as eerie as Packard Sawmill in Twin Peaks, shrouded in fog and charming fall foliage. Prior to the town of Kennecott's resources being depleted in the late 1930s and everyone leaving town save for a family of three, it was thriving with copper miners and their families. By the 1950s, when the family that had been watching it eventually left, it had been completely forgotten.
#2 Spain's Canfranc Station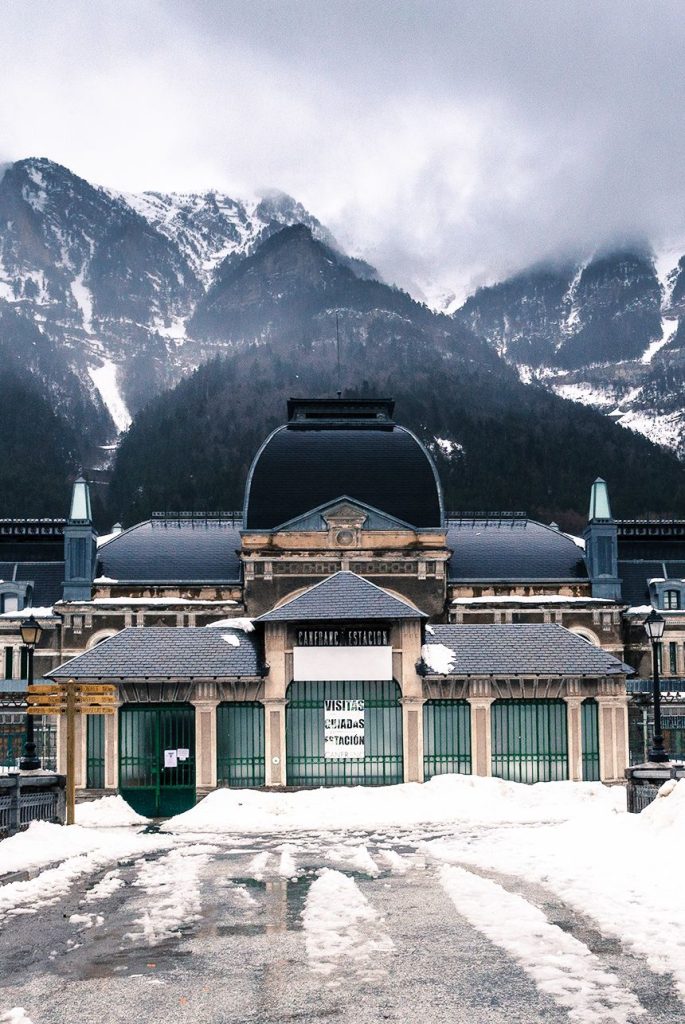 The international Canfranc train station in Huesca, Spain still makes a grand impression despite having long since passed its prime. At the time of its construction in 1928, it was the second-largest train station in Europe and one of the busiest. The station was shut down after a train derailed on the French side of the bridge, but current initiatives to reopen it by 2026 could restore it to its former splendor.
#3 New York's Grossinger's Resort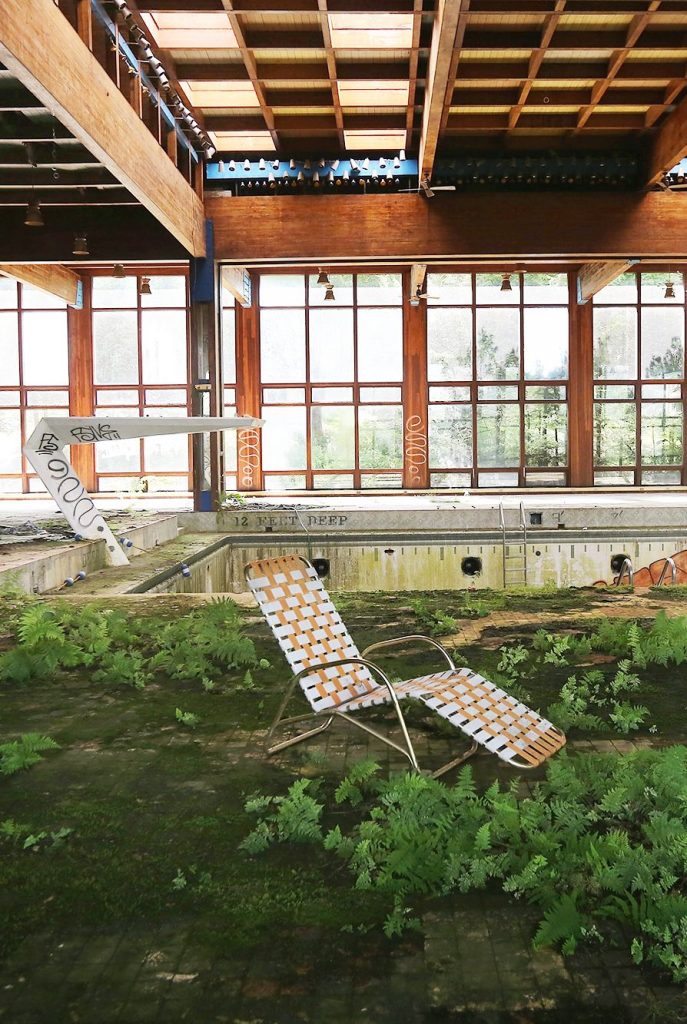 Grossinger's in Liberty, New York, used to be a posh weekend getaway upstate, despite the fact that you would never know by looking at it in its current state. It resembled the resort in Dirty Dancing when it was at its peak; some even contend that Grossinger's served as the model for the movie. The resort shut its doors in 1986 due to the town's economic collapse.
#4 Estonian prison of Rummu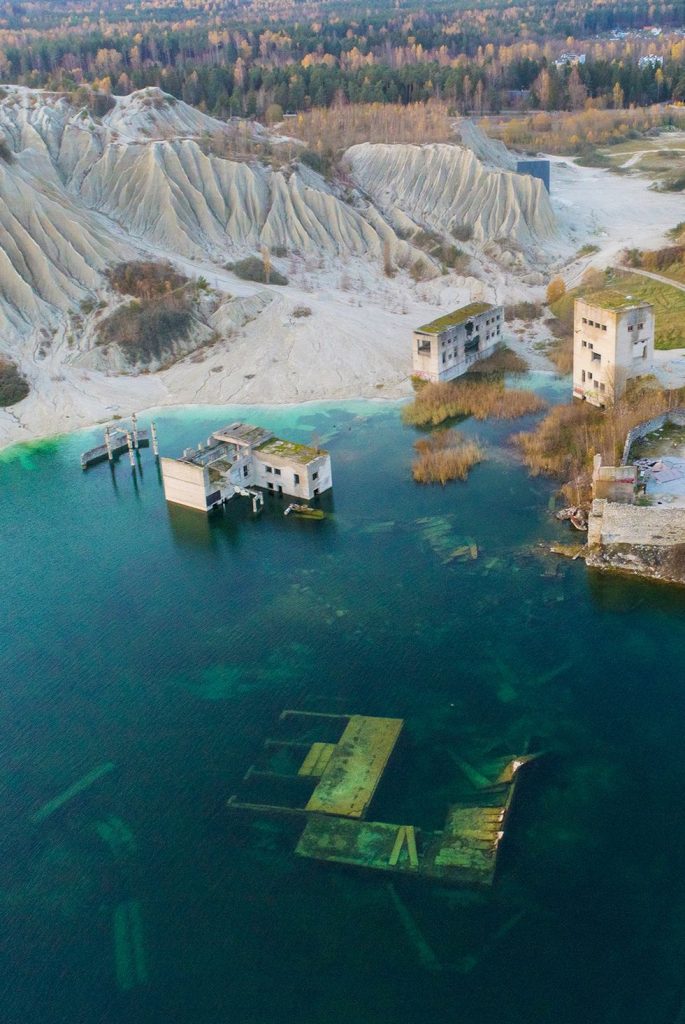 Talk about ominous. This prison that is partially flooded has a bleak past. Until Estonia attained freedom from the Soviet Union in the early 1990s, prisoners were made to labor in the quarry. Without any maintenance, the area finally became submerged in water. Today is a beach, so if a beach trip is what You're after, we advise getting your scuba diving certification first.
#5 Goricina Hotel, Croatia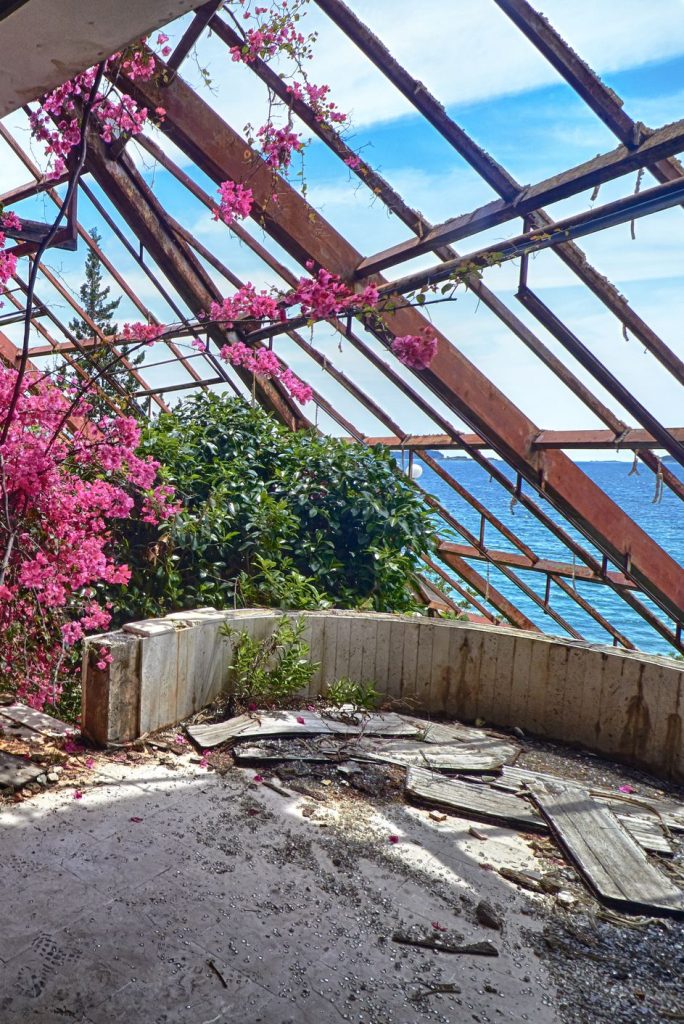 A number of hotels, including Hotel Goricina, which was previously a luxurious retreat in a Yugoslavian military resort, were destroyed during the Croatian War of Independence. The stark disorder of this deserted hotel on the Croatian coast today contrasts sharply with pink bougainvillea and the turquoise seas of the Adriatic Sea.
#6 Japan's Hachijo Royal Hotel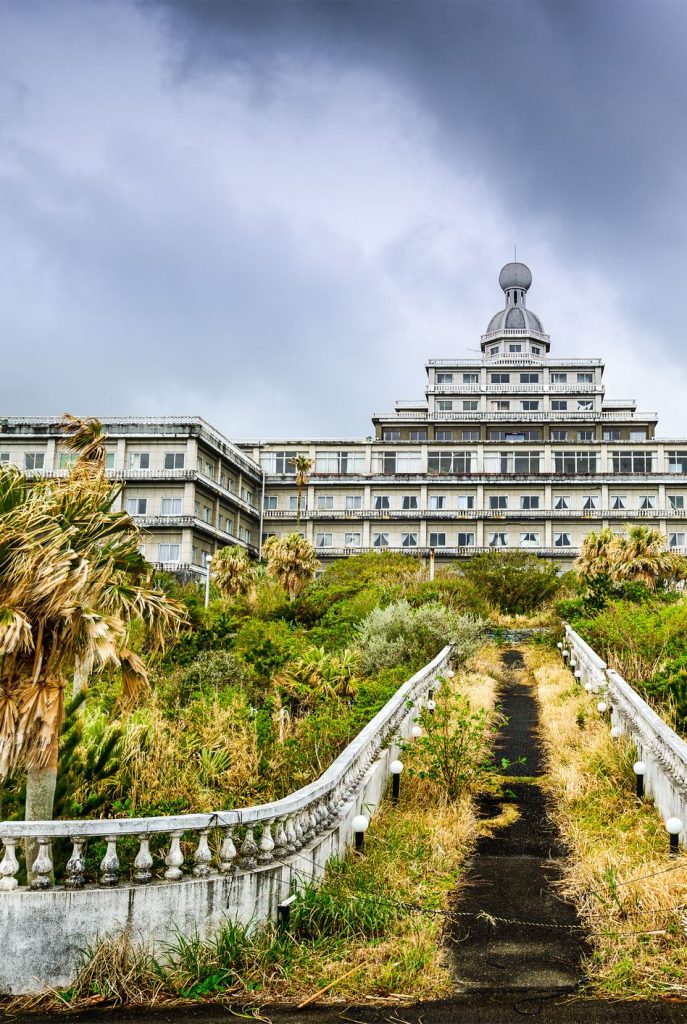 Hachijo Royal Hotel, which is situated on the verdant Japanese island of Hachijojima, used to be one of the biggest resorts in the nation. Seriously scary is the French Baroque architecture set against the moss and overgrown trees.
#7 Germany's Beelitz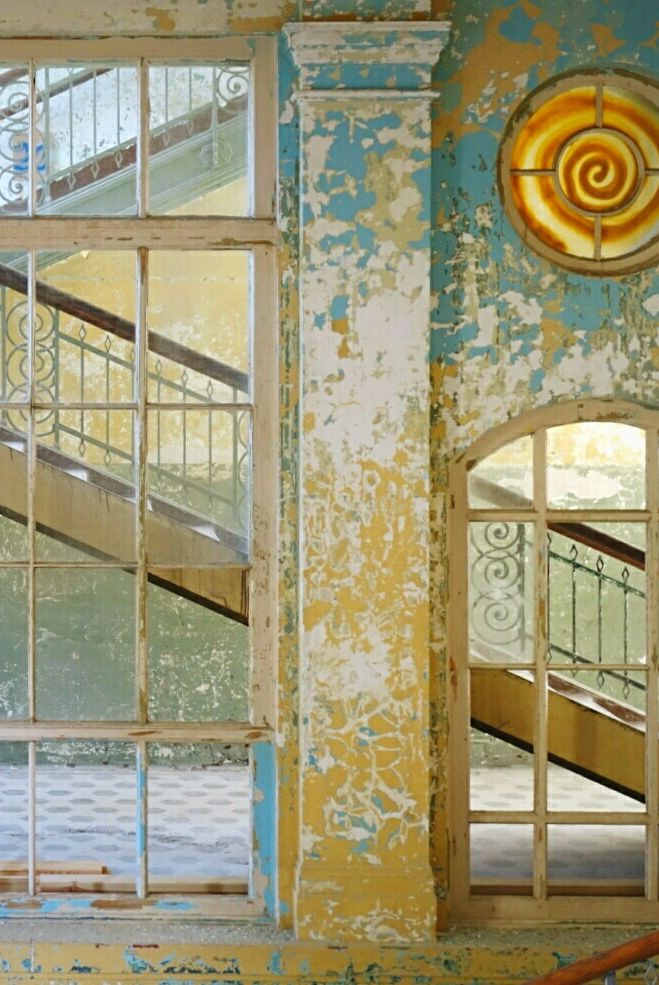 Sure, it's creepy, but we can't help but be reminded of Willy Wonka's Chocolate Factory by the beautiful sky-blue paint (or what's left of it) and that lovely swirly window. This facility, which dates back to the1800s, served as a military hospital during conflicts. When Soviet forces left Germany in the mid-1990s, the neighborhood was abandoned.
#8 Romania's Geamana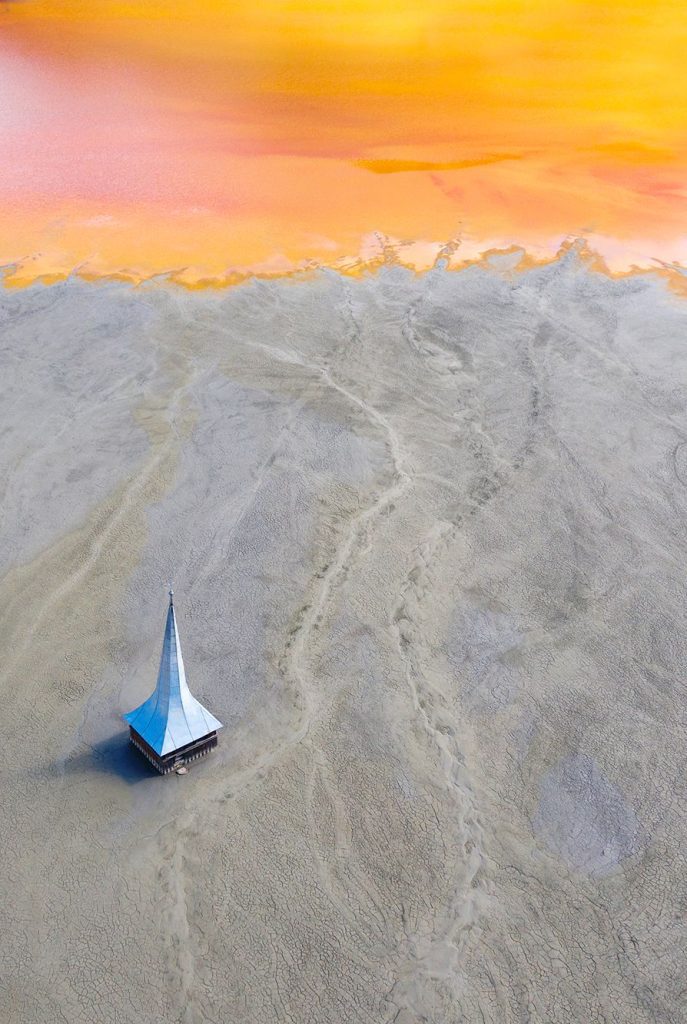 In the rural Romanian town of Geamana, copper mining began to flourish in the 1970s. The dictator of the time, Nicolae Ceausescu, ordered a complete evacuation (of about 400 households) when the mining produced a significant amount of toxic waste so that the valley might be used as a toxic dump site. This tenacious tower is still visible amid the torrent of poisonous waste and an artificial lake that inundated the town.
#9 Italy's Craco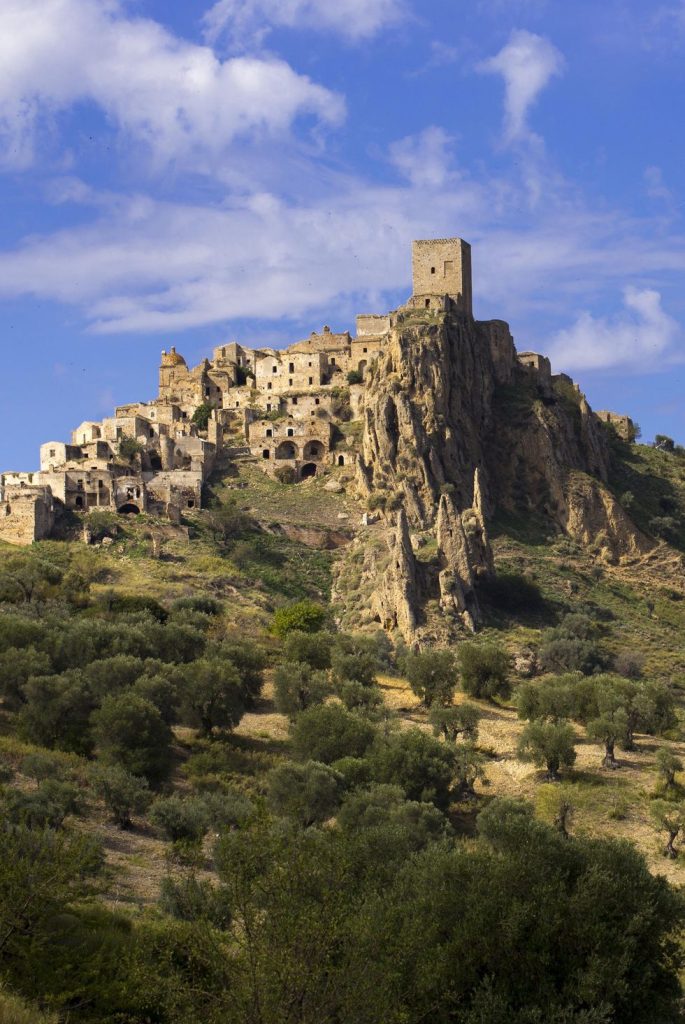 Although this town has been around since 540, a large portion of its residents left throughout the 20th century because of subpar farming, a landslide in 1963, and a flood in 1972. It is now an impressive ancient site that has been used as a backdrop for films like The Passion of the Christ.
#10 Chinese island of Gougi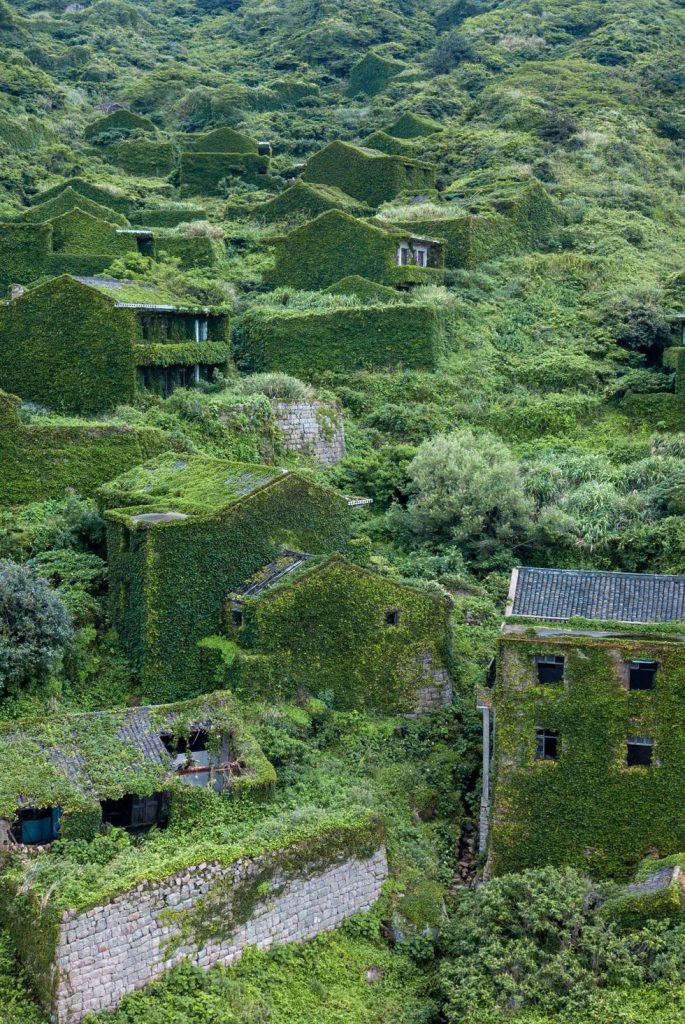 This fishing community on the Yangtze River in China isn't your typical deserted town; instead, it stands out for its lush, ivy-covered structures and spectacular vegetation.
#11 Macedonia's Saint Nicholas Church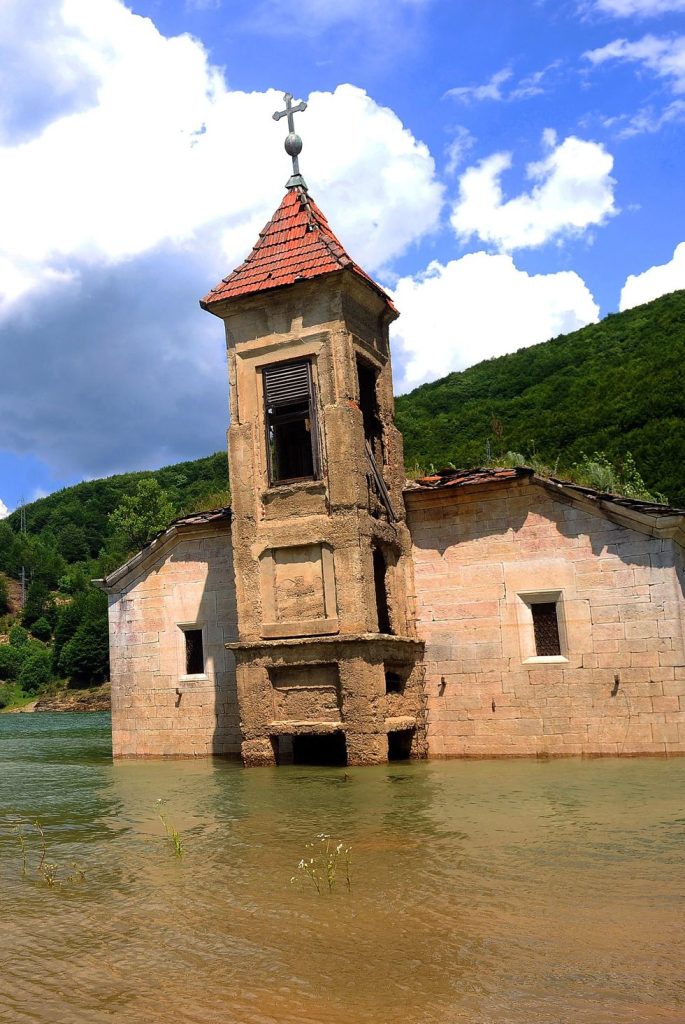 In Macedonia's Mavorvo Lake, Saint Nicholas' Church is submerged. The lake was built to support a power plant, therefore the destruction was deliberate; the church and the nearby village were only caught in the path of development. What's left is an unsettling contrast between the crumbling structure and the picturesque surroundings.
#12 Belgian Miranda Castle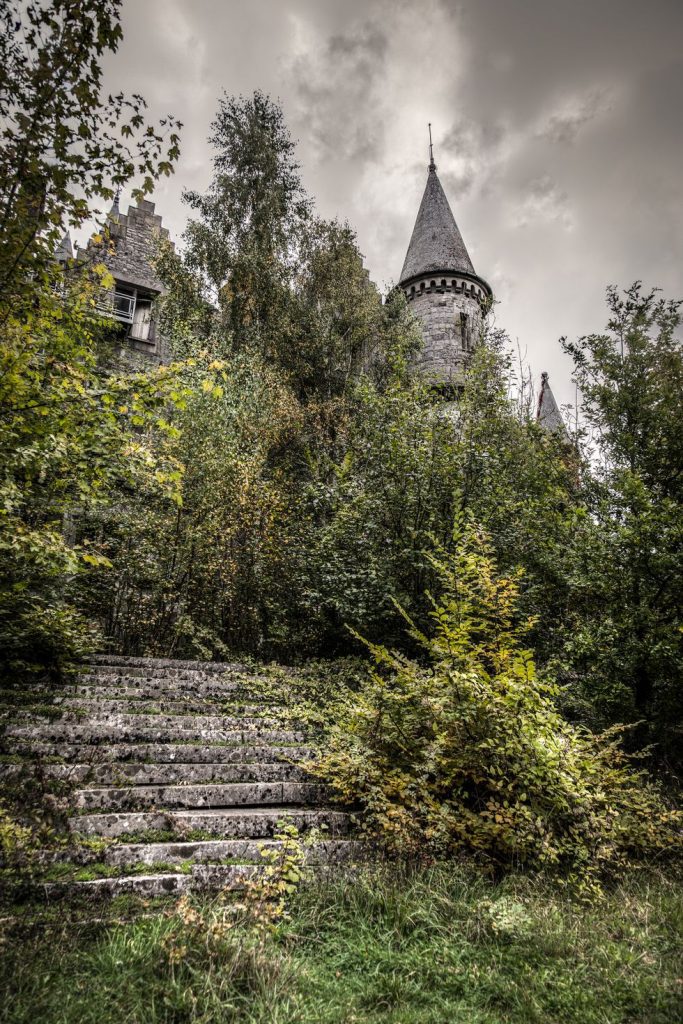 This fanciful building in Belgium was started in 1866 with the intention of being a vacation residence, but the architect passed away before it was finished in 1907. After being occupied by Nazis during World War II, it was used as a summer camp for 20 years before being abandoned in 1991 because upkeep was too expensive.
#13 Indian island of Ross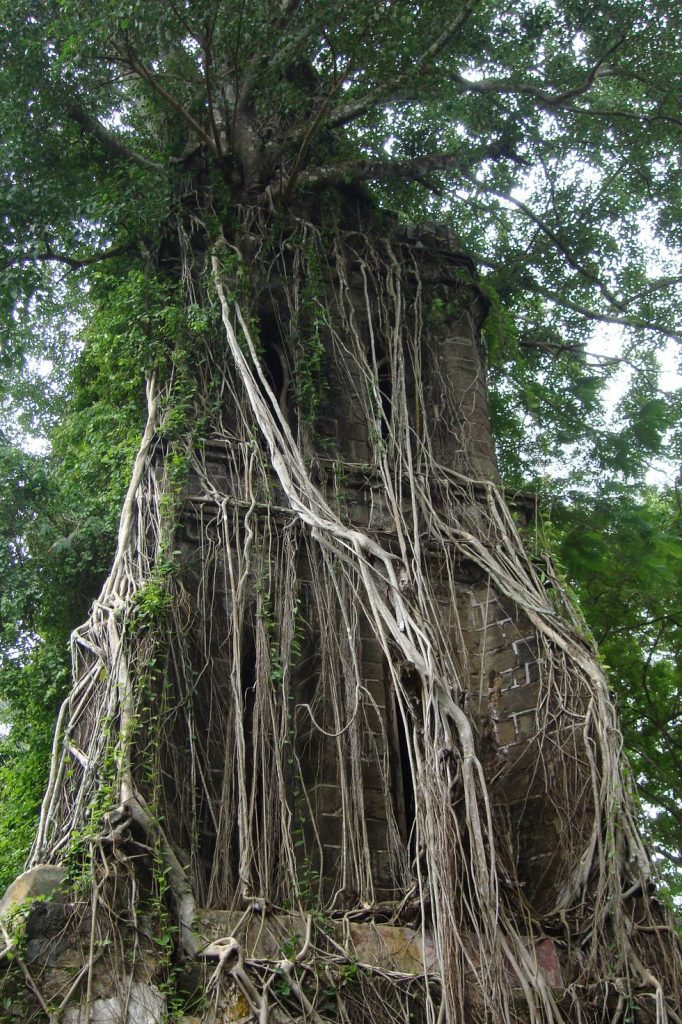 This island, which is part of South Andaman, India, served as the Indian Penal Settlement's former British administrative hub. But once it was abandoned, wild Ficus overgrew it, giving it a magnificent Jungle Book feel.
#14 New Orleans' Six Flags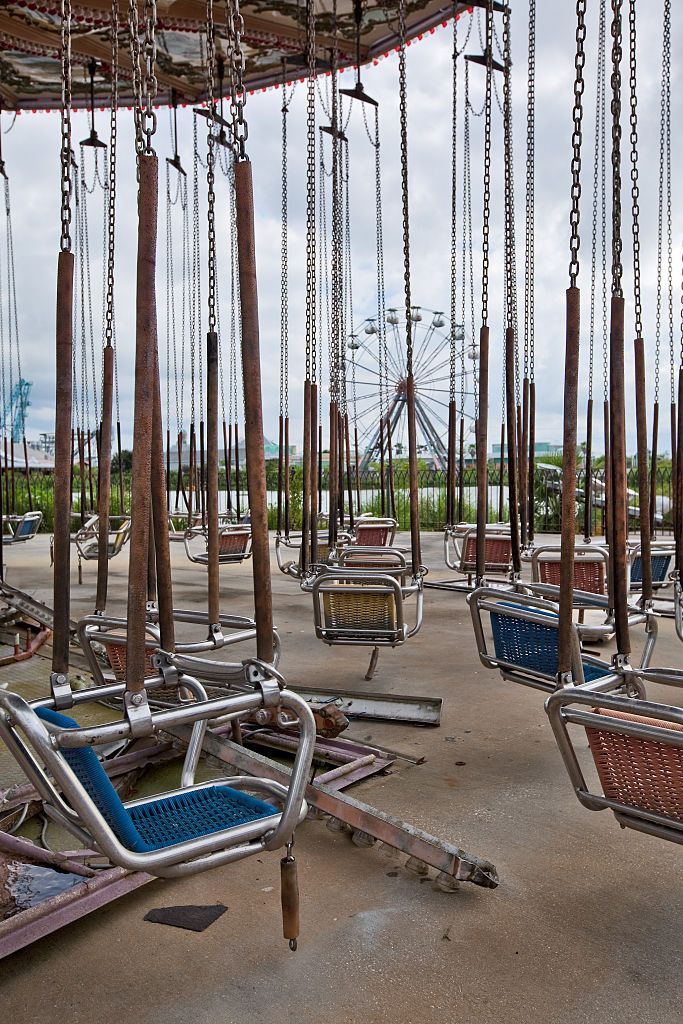 Hurricane Katrina in 2005 damaged this theme park. Eighty percent of the rides were destroyed by salt water and murky water that swelled up to six feet high. What remained was a curiously lovely testament to the thriving metropolis that had previously been on the verge of being destroyed by tragedy.
#15 In Scotland, Hirta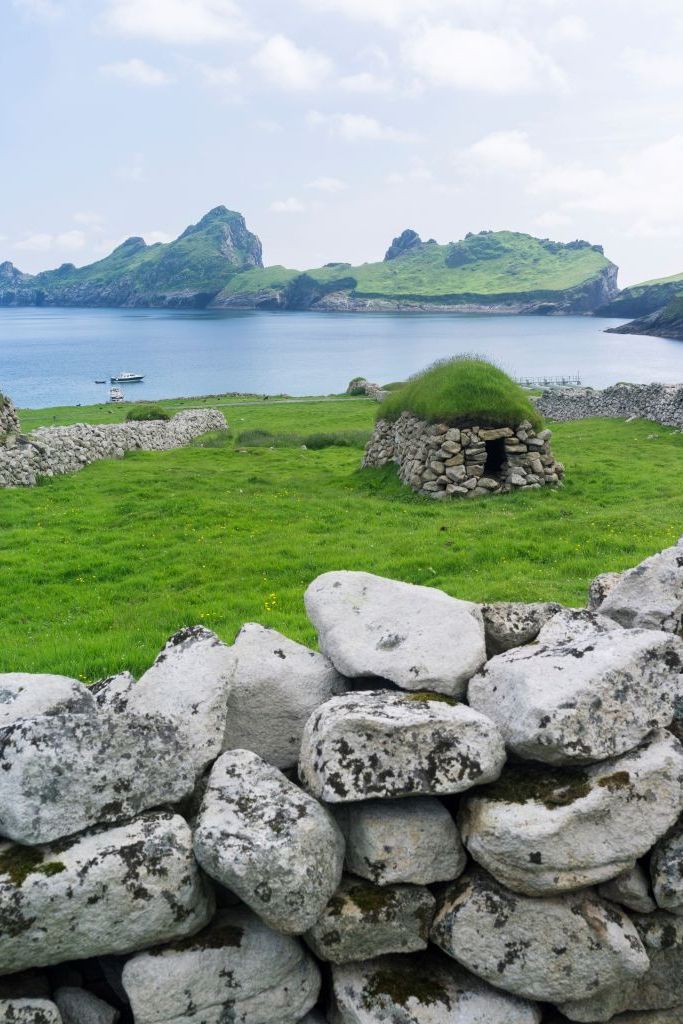 This island was once lush and home to a large population, but in the 1930s it was abandoned due to the fear of starvation and severe weather. Stone buildings that have been abandoned are now scattered across the fields.
#16 Miami Dome Homes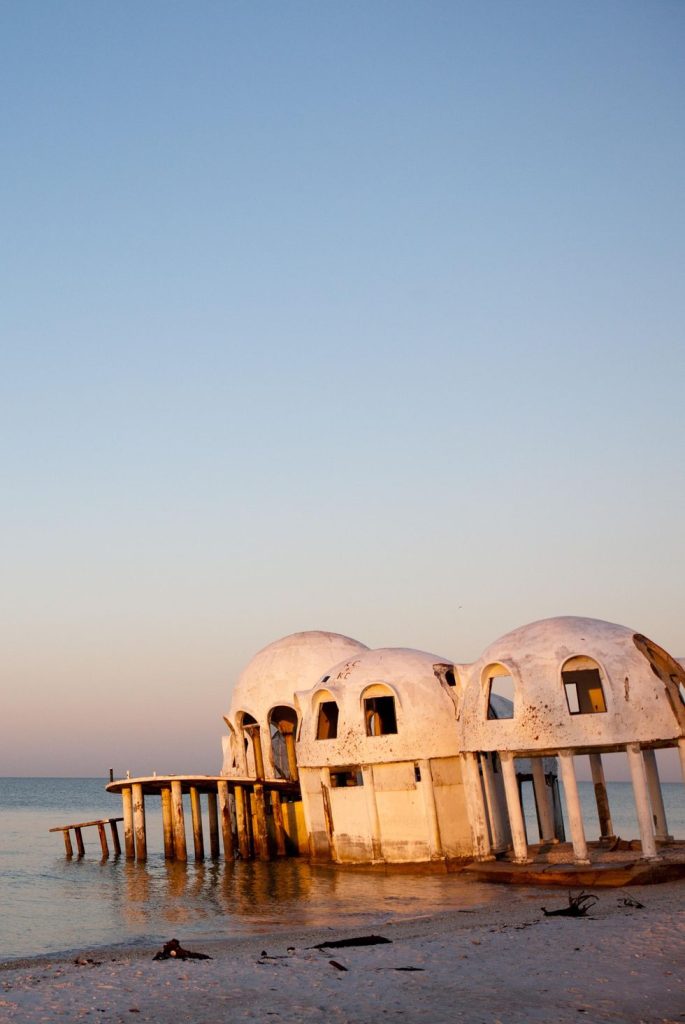 In Cape Romano, Florida, not far from Marco Island, there is a building that resembles an abandoned spaceship from another planet. It was actually a vacation home that was subsequently damaged by a hurricane. The coastline is now unsalvageable due to erosion.
#17 Nevada, Berlin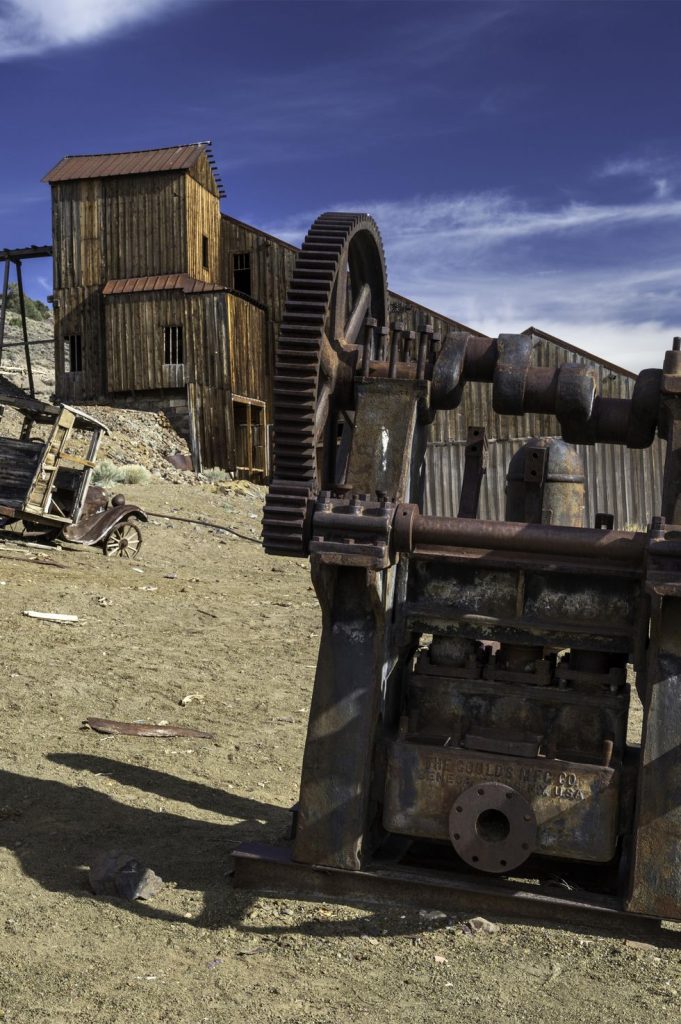 As a result of the mining boom, the Berlin Historic District was established in 1897; nevertheless, it never saw the same level of success as other adjacent towns and was completely abandoned by 1911. It presently forms a section of a state park in Nevada.
#18 Namibian Kolmanskop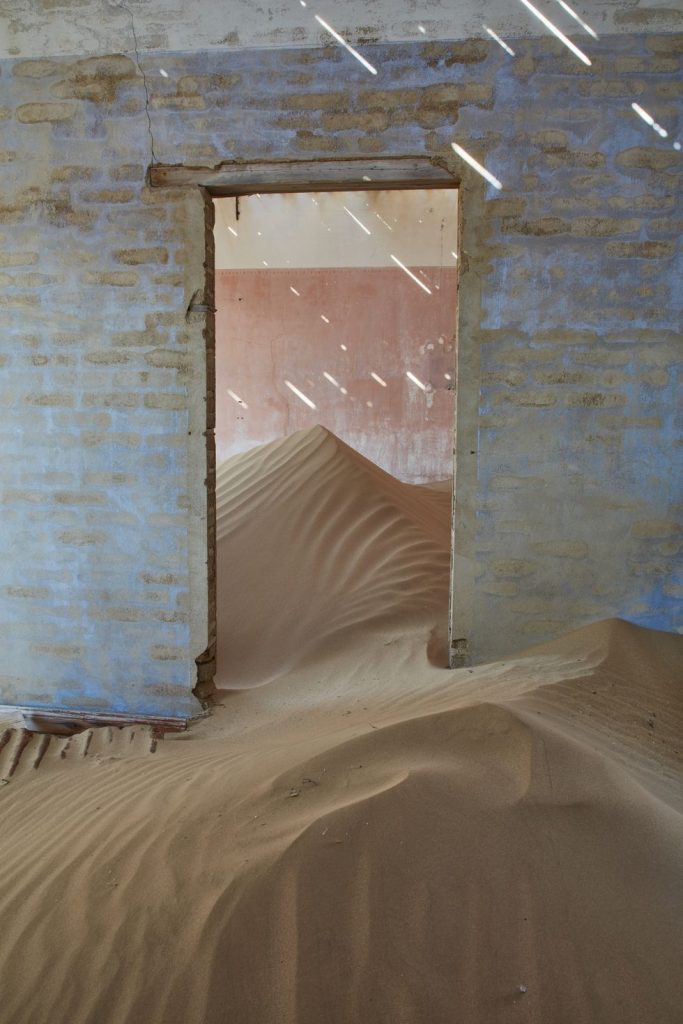 This town was established in the Namib Desert in 1908 as a result of a diamond discovery there, but it was abandoned in 1954 due to resource depletion. The houses that were left are now completely covered in sand, which is an odd yet amazing sight to behold.
#19 Scottish castle Kilchurn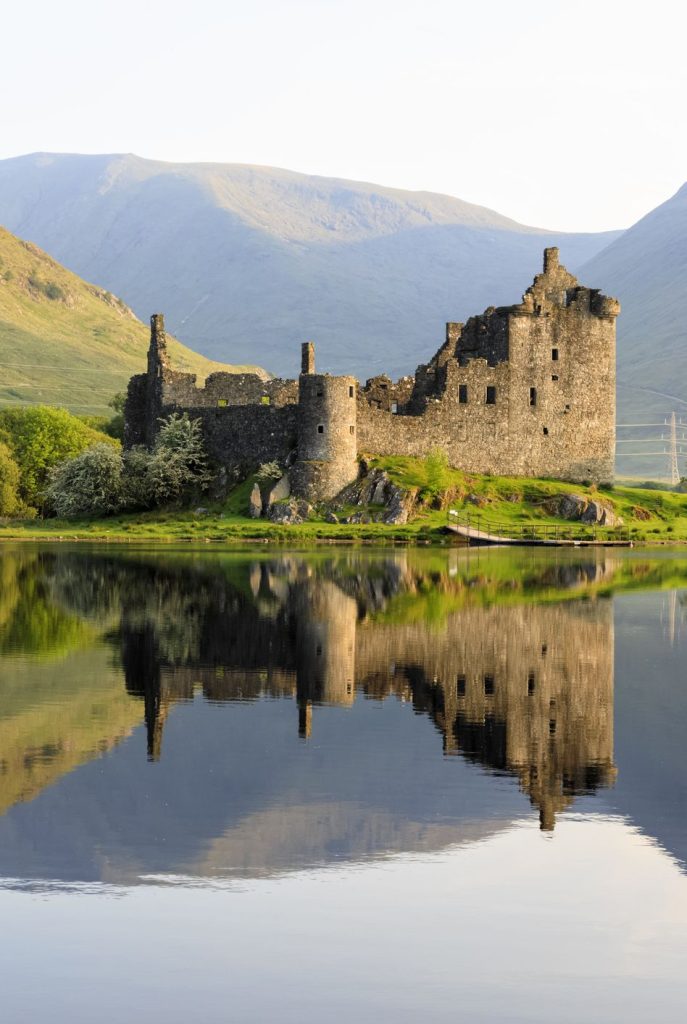 The most prominent individuals in the nation lived in this Scottish castle, which dates to the middle of the fifteenth century. But due of its striking location, it was abandoned in the 1700s and is today one of the most popular castles for photographs.
#20 In Turkey, Kayakoy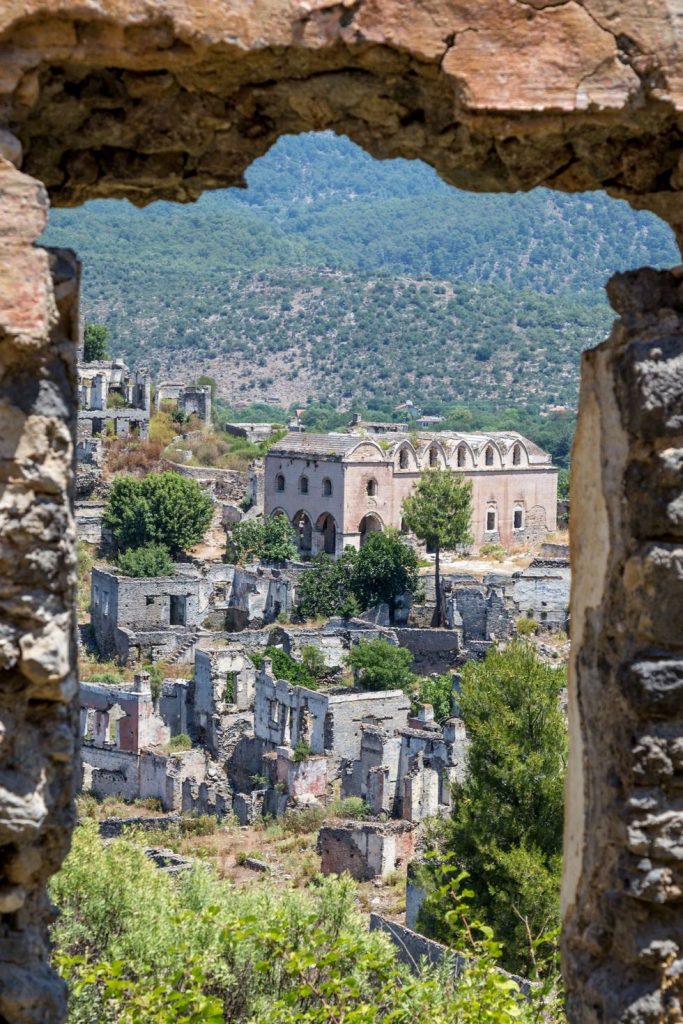 The 1920s saw the abandonment of this village in the Taurus Mountains as a result of a political population swap with Greece. Currently, the city has over 350 vacant dwellings.
#21 Australia's Floating Forest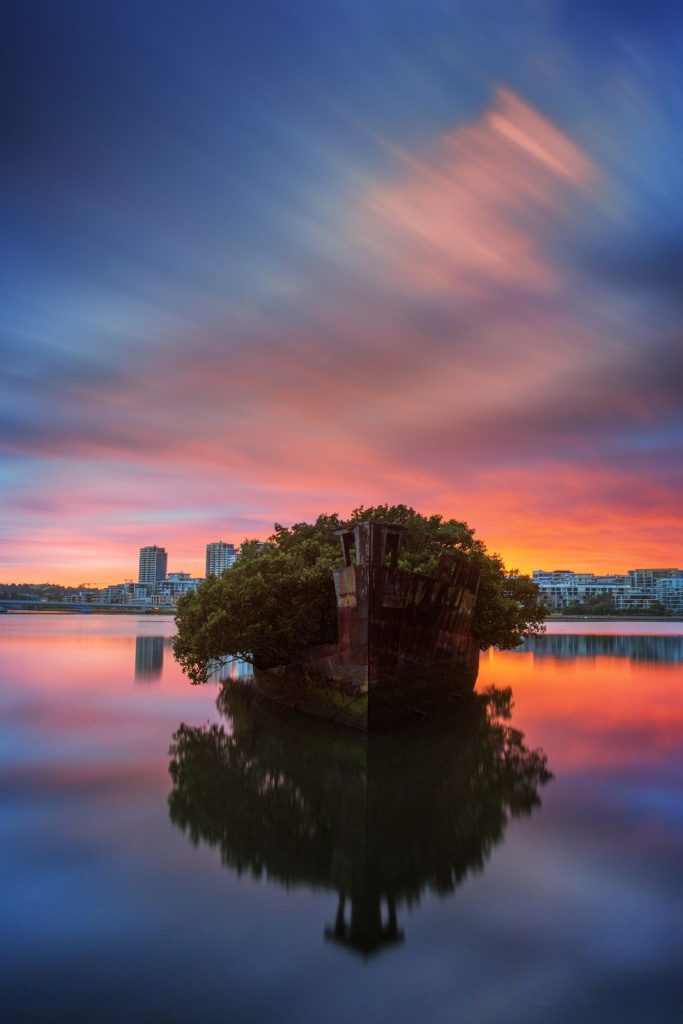 In what is essentially a ship graveyard in Homebush Bay, west of Sydney, the SS Ayrfield, built in 1911, was retired in 1972. It differs from the other abandoned ships, though, in that it has now developed magnificent mangrove trees and vegetation.
#22 Italian lakeside villa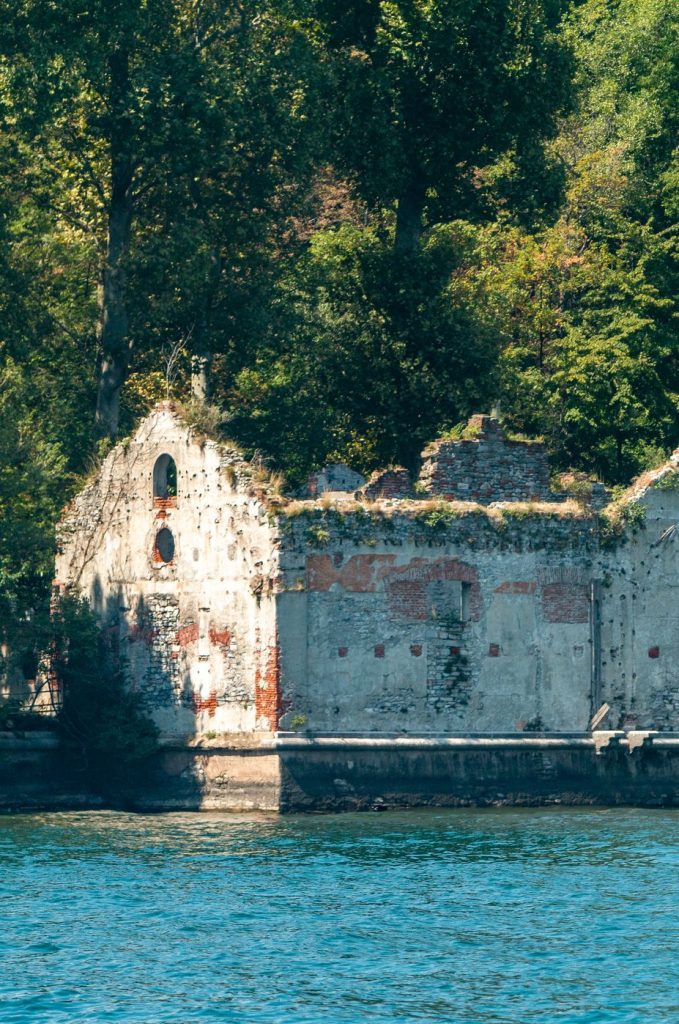 Locals assume the old mansion was constructed in the 1800s, yet the history of this run-down region in the highlands around Lake Como is uncertain. Rumor has it that it was abandoned following a homicide or suicide.
#23 Germany's Allerheiligen Monastery
This church, which was first constructed in the German Black Forest in 1192, has been struck by lightning and burned up to three times since then— which is why it was ultimately abandoned in its present state as ruins.
#24 Cambodian temple Ta Prohm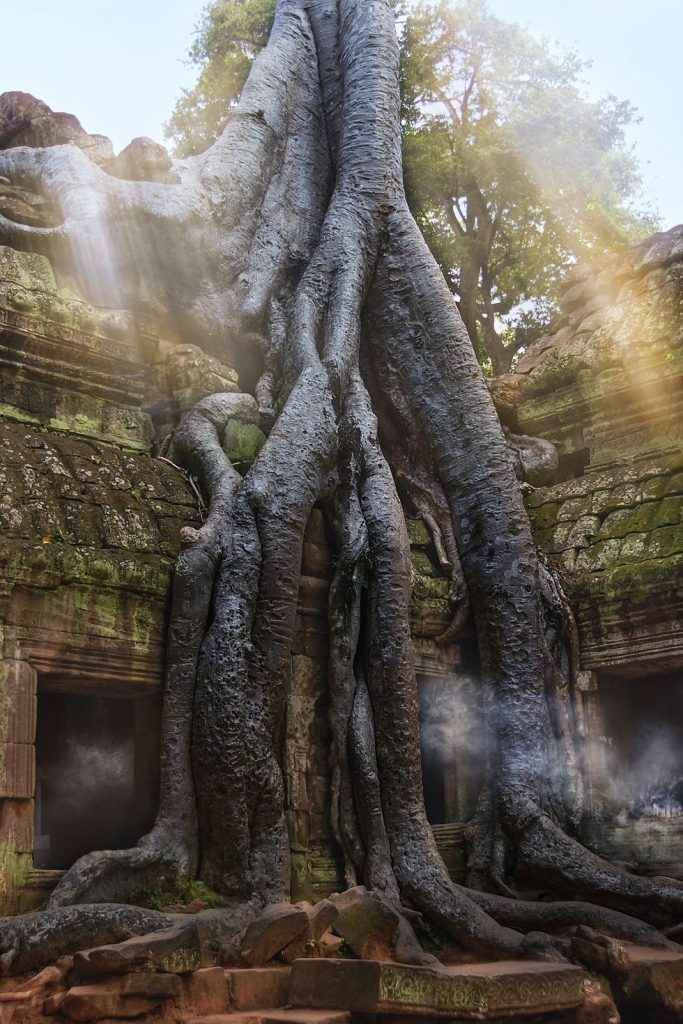 After the empire collapsed in the 17th century, this well-known temple at Angkor Wat, Cambodia, was left in ruins and eventually merged with the jungle. To stabilize and sustain the temple, the ruins are now taken care of.
#25 England's Maunsell Army Sea Forts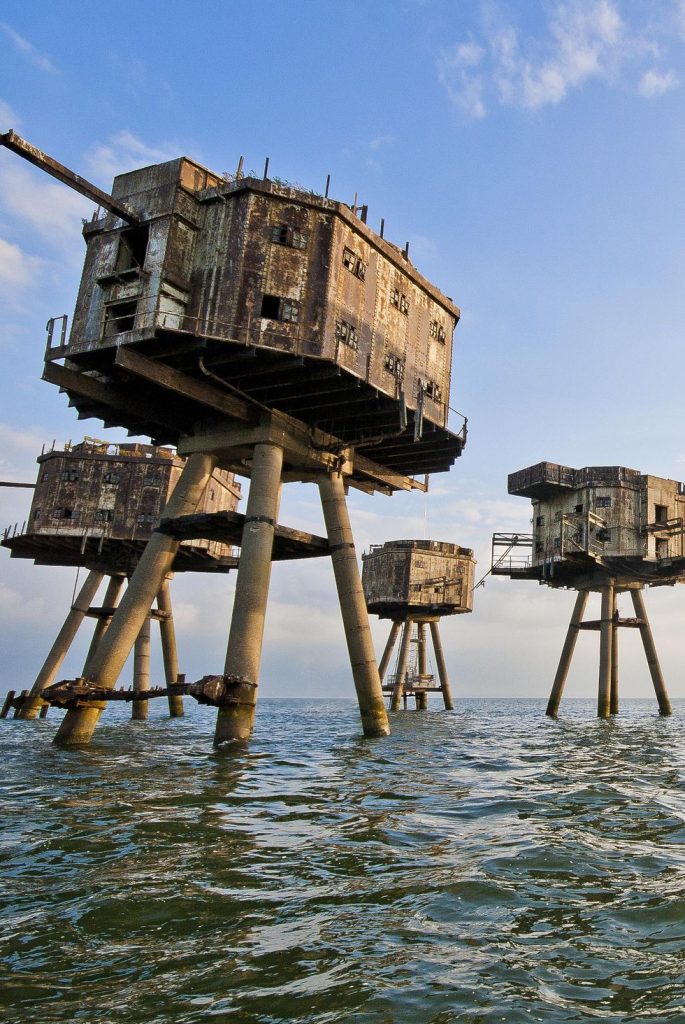 During World War II, these forts were built to defend the Kent, England coastline from a German invasion. They were subsequently decommissioned in 1950, temporarily used as pirate radio stations, and then abandoned. Currently, there are plans to rehabilitate them so they won't be lost forever.