When a flight attendant mentions a six-year-old who beat cancer, the plane erupts in applause
We walk by countless untold stories daily, but some tales must be shared. On a recent journey with Southwest Airlines, passengers were greeted with a heartwarming announcement. Among them was Jessa, a spirited 6-year-old who had just completed her dream trip to Disney World courtesy of the Make-a-Wish foundation. The flight attendant declared, "She has triumphed over cancer and is now cancer-free." A round of applause was heard in response to the announcement.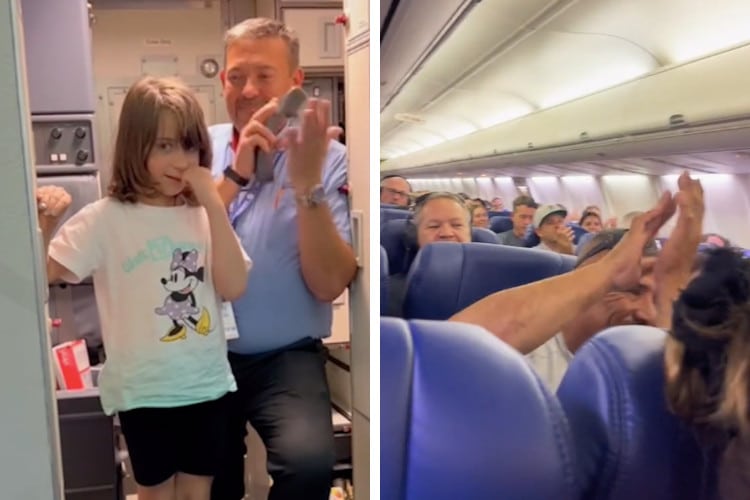 A video uploaded by Jessa's mother showcased the heartfelt moment, with passengers celebrating Jessa's victory over the disease. The flight attendant chimed in, expressing admiration for her courage. "Such a phenomenal achievement," he remarked, addressing the sea of clapping hands. "Our warmest welcome home wishes to you, Jessa. May your life be filled with health, joy, success, and longevity. Continue being the fighter that you are. We're elated to have you here."
But the road to this moment was fraught with challenges. Jessa's mother uploaded a poignant video the previous year of her daughter's battle. "762 challenging days, 61 chemo sessions, and countless pills. It's finally over," her mother captioned. Clips showcased Jessa bravely managing her medication regime, never letting go of her zest for life. This compelling narrative touched millions, garnering over 2 million views on TikTok. Beyond the support of those on the plane, Jessa found herself with global cheerleaders. Her mother expressed her gratitude, stating, "Thanks to everyone for cherishing this moment and backing our little champ. We're filled with pride and gratitude for the overwhelming love and hope she inspires in all."
The story came full circle when the flight attendant, known online as @flyguywn, stumbled upon the video of Jessa's reaction to the onboard support. He noted, "Of the countless announcements I've made over time, this one holds a special place in my heart!"
On this Southwest flight, passengers were introduced to an extraordinary guest: Jessa, a 6-year-old who conquered cancer.
In 2022, a video by Jessa's mother documented her arduous journey battling the disease. The flight attendant warmly told her, "Welcome home. I send you my best wishes for a healthy, happy future. prosperity, and longevity. Keep up your fight and spirit. We're honored to share this journey with you
Source: mymodernmet